---
A War Over Gun Control
Radio Free NJ ^ | 2/9/2013 | frithguild


Posted on 02/09/2013 12:19:06 PM PST by frithguild
Economic history, my collegiate academic fascination, focuses upon the adaptation of societal institutions to technical innovations. The American legal history of the right to keep and bear arms can be traced back to the deposition of King James II, who prevented Protestants from owning firearms. The English constitutional right that "Protestants may have Arms for their Defence suitable to their Conditions and as allowed by Law" then served as the model for the American Bill of Rights.
Here in the States, however, firearms were not stored in a castle "keep" with villiens, as part of their required service, bearing the cost to maintain them. The Militia Acts in most colonies required property owners, slaves excluded, to maintain a firearm. After Yorktown, however, when the Continental Congress could not pay our soldiers, they then had their firearms "for keeps." In America, keeping arms lost the notion that you paid the cost for them to be maintained in a castle, to be replaced with the idea of the right to own them as your own property. Keeping no longer implied a required service, similar to the exercise of a taxing power.
The prosperity that ordered liberty brought to the states during the 60 or so years that followed the adoption of the Constitution yielded technical innovation in the manufacture of firearms such as interchangeable parts and mass production. I have argued here that the mass production of the Sharpes Carbine tipped the balance in Bleeding Kansas toward the final rejection of that horrendous English notion that certain people enjoy a right to greater freedom than others. Yet, as one state copied the Militia Act of another, slaves were prohibited from possessing a firearm.
The idea, ultimately antithetical to the complete deprivation liberty, of a personal right to keep and bear arms, brought the United States to a violent tipping point, however, only after the relative cost of firearms made them widely available to more than those landed men required to participate in the militias. In the days that Kansas formed as a state, abolitionist Protestants, armed with Beecher's Bibles, opposed those who sought to keep slaves:
We therefore accept the weapons, also, and like our fathers, we go with the Bible, to indicate the peaceful nature of our mission, and the harmless character of our company, and a weapon to teach those who may be disposed to molest us (if any such there be), that while we determine to do only that which is right, we will not submit tamely to that which is wrong.
The inhabitants of the Kansas territory thus saw the impact of the abolitionists armed with the Sharpes Carbine. They later adopted the Wyandotte Constitution, that declared, "The people have a right to bear arms for their defense and security," and that, "There shall be no slavery in this State, and no involuntary servitude, except for the punishment of crime, whereof the party shall have been duly convicted." As a result, after October 4, 1859, a person of any color, just across the river from slave plantations in Missouri, could possess a mighty Sharpes Carbine.
The Kansas-Nebraska Act, which gave those territories their own right to decide whether to be pro-slave or not, fractured the Whig Party in two, giving rise to the birth of the Republican Party. United States admitted Kansas on January 29, 1861. The Congressional legislative balance between free and slave states then forever tilted toward liberty. On Friday, April 12, 1861, at 4:30 a.m., Confederate batteries opened fire on Ft. Sumpter.
By 1855, Colt began to manufacture a bored through revolver that used a metal jacketed cartridge. Such a machine makes slavery impossible. The fight between the states, as I see it, was between entrenched economic interests over who was "person" that could keep and bear increasingly less expensive and more effective firearms. The Civil War was fought over gun control.

---
TOPICS: Government; History
KEYWORDS: banglist; bleedingkansas; guncontrol; secondamendment

Embedded links at RFNJ

---
To: frithguild
"Beecher's Bibles"
Henry Ward's sister Harriet Beecher Stowe, had in 1852 written the anti-slavery classic Uncle Tom's Cabin.
They never even covered this in Americzn History in the 50's.

---
To: frithguild
So much wrong information here I don't know where to start.
By 1855, Colt began to manufacture a bored through revolver that used a metal jacketed cartridge.
Uh, that would be Smith & Wesson, not Colt, and what is a "Sharpes carbine?" I have heard of Sharps carbines, from the 1870s, but not in Bleeding Kansas in the 1850s.

---
To: Inyo-Mono
Christian Sharps invented the knife-edge breech block and self-cocking device for the "box-lock" Sharps Model 1851. In that year, Sharps manufactured and sold 20,000 units, using mass production techniques. The Model 1853 "Slanting Breech" Carbines became equipped with the Sharps-patented pellet primer system.
The Sharpes Model 1853 Carbines were nicknamed "Beecher's Bibles," after New York clergyman and abolitionist, Henry Ward Beecher. Ward and other northeastern abolitionists shipped 900 Sharps Carbines to Free Soil settlers Kansas in heavy crates marked BIBLES.
Thank you for the correction - it was the 1856 S&W Model 1 that used a bored through cylinder based upon the Rollin White patent that he came upon while working for the Colt Patent Firearms Manufacturing Company.
4
posted on
02/09/2013 2:28:10 PM PST
by
frithguild
(You can call me Snippy the Anti-Freeper)
---
To: frithguild
Yes, and it wasn't until 1872 that Colt's was able to produce cartridge revolvers when White's patent expired.
Before that only those who were granted patent rights were able to produce bored through cylinder cartridge revolvers.
S&W sued many patent infringers until Remington came out with the first big bore cartridge conversion revolver in 1868 under rights from the Rollin White patent, a .46 caliber version of S&W's .22 short and .32 cal rimfire revolvers.
Still have never heard of a "Sharpes."
---
To: Inyo-Mono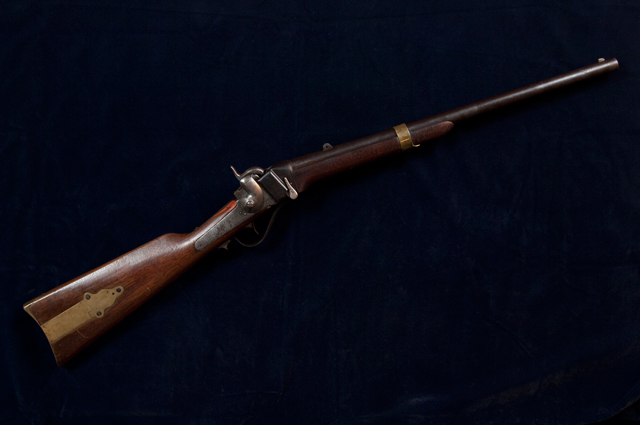 Clearly, I am a mere student of history, and not much of one when it comes to correct spelling of names. Thanks for your patience and the information.
What do you think of my thesis that mass production of firearms made slavery impossible to maintain?

6
posted on
02/09/2013 9:23:54 PM PST
by
frithguild
(You can call me Snippy the Anti-Freeper)
---
FreeRepublic.com is powered by software copyright 2000-2008 John Robinson