---
The Marxists of May (Open Borders Activists and Communists in Union Square)
American Rattlesnake ^ | May 4, 2013 | Gerard Perry


Posted on 05/04/2013 10:06:44 AM PDT by OddLane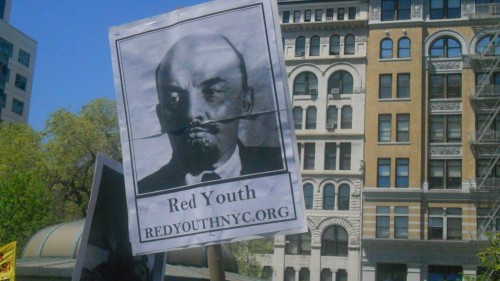 One of the perennial problems faced by the left is the inclination to either devolve into myopic, sectarian bands, or to remain so diffuse and broad in its appeal that it doesn't accomplish much of anything. The latter tendency can be seen in the evolution of movements like Occupy Wall Street, which never quite formulated a cogent agenda, despite rendering aid to distressed victims of Hurricane Sandy this past year. Although, even this operation didn't proceed quite as smoothly or as transparently as one would expect from an organization that ostensibly has no defined hierarchical structure.
The message emblazoned upon the placard seen above-whether born out of sincerity or a mischievous desire to troll Marxists-was probably the most succinct, coherent statement I encountered in Union Square this week, however ironic it must seem juxtaposed against a public celebration of the international labor movement.
Nevertheless, supporters of OWS were plentiful during Wednesday's festivities, even as open borders activists attempted to use May Day to mobilize their supporters on behalf of millions of illegal aliens seeking amnesty.

(Excerpt) Read more at american-rattlesnake.org ...
---
TOPICS: Government; Local News; Politics; Society
KEYWORDS: immigration; marxism; mayday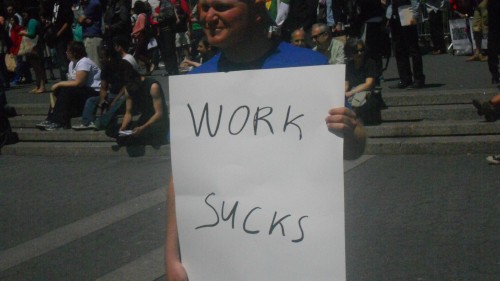 ---
To: Vaquero; Cacique; HiJinx; no-to-illegals; cripplecreek; PGalt; Tax-chick; SunkenCiv
---
To: OddLane
I cannot believe this is happening in America.
My country (Slovakia) experienced 40 years of Communist brainwashing but finally was liberated from this cr*p.
Communist party never made it into parliament any more.
We are well aware of George Santayana´s idea: "Those who cannot remember the past are condemned to repeat it".

---
To: arasina
---
FreeRepublic.com is powered by software copyright 2000-2008 John Robinson