---
To: 2ndDivisionVet
I would not recommend such action...read what happen years ago.....
The Bonus Army Invades
Washington, D.C., 1932
Printer Friendly Version >>>
Six years after the end of World War I Congress enacted a bill that would reward veterans of the conflict a cash bonus for their service. However, the legislation stipulated that the veterans would not collect their bonus until 1945.
Tanks and cavalry prepare to
evacuate the Bonus Army
July 28, 1932
This delayed gratification was acceptable to the World War I veterans during the prosperous '20s but the onslaught of the Great Depression changed their attitude. Out of work, destitute, and with families to feed, the veterans organized a march on Washington in May of 1932 to force Congress to immediately pay their bonus. An estimated 15,000 made their way to the nation's capital and dubbed themselves the "Bonus Expeditionary Force."
Using scrap wood, iron and any other loose materials they could find, the veterans set up ramshackle camps throughout the city. The largest housed an estimated 10,000 people. They waited in vain for Congress to act. On June 17 the Senate voted against the House-passed bill that would have given the Bonus Marchers immediate payment of their benefit.
Having no other place to go, the majority of the Bonus Army remained encamped in the city, despite the fact that Congress had adjourned for the summer. Finally, President Hoover ordered the Army to forcibly remove the veterans. On July 28 a force of tanks and cavalry under the command of General Douglas MacArthur stormed the camps and drove the veterans out. Their makeshift houses were then set ablaze.
"I was horrified to see plain evidence of hunger in their faces."
---
To: B212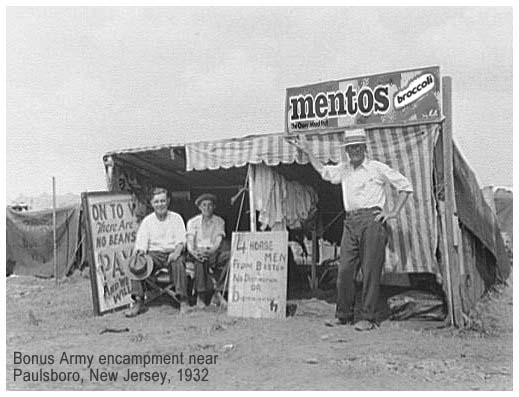 60
posted on
05/04/2013 5:52:54 PM PDT
by
2ndDivisionVet
(I'll raise $2million for Sarah Palin's presidential run. What'll you do?)
---
FreeRepublic.com is powered by software copyright 2000-2008 John Robinson