---
You Donít Have To Like Edward Snowden
BuzzFeed ^ | June 23, 2013 | Ben Smith


Posted on 06/23/2013 7:58:53 PM PDT by 2ndDivisionVet

Reporters have always been comfortable ignoring their sources' motives. Now everybody else needs to get used to that.

Miriam Elder@MiriamElder

Snowden welcome party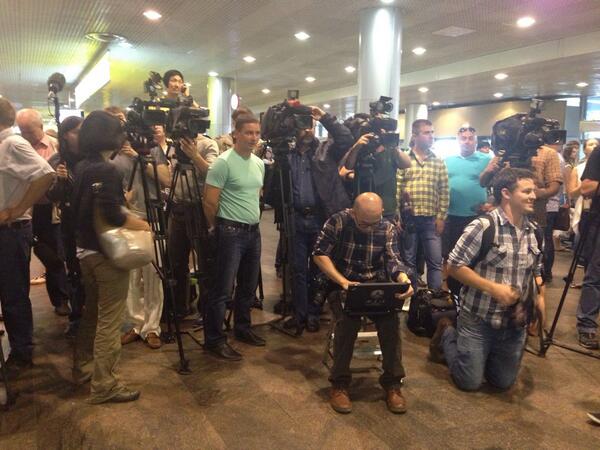 One of the most difficult features of the new news environment is that everybody gets to see the utter mess of the early hours of a breaking news story — the chaos, the bad information off the scanner, the misidentifications. Those are things that used to take place inside the newsroom or, at worst, be swept away on the unrecorded broadcast airwaves.
There is now a heated debate over the moral status of Edward Snowden — who fled Hong Kong for Moscow en route, reportedly, to Ecuador Sunday — and over whether his decision to flee almost certain conviction and imprisonment in the United States means that his actions can't be considered "civil disobedience." These seem like good questions for a philosophy class. They are terrible, boring, ones for reporters, and have more to do with the confusing new news environment than with the actual news.
Snowden is what used to be known as a source. And reporters don't, and shouldn't, spend too much time thinking about the moral status of their sources. Sources sometimes act from the best of motives — a belief that readers should know something is amiss, or a simple desire to see a good story told. They also often act from motives far more straightforwardly venal than anything than has been suggested of Snowden: They want to screw someone who is in their way professionally; they want to score an ideological point by revealing a personal misdeed; they are acting on an old grudge, and serving revenge cold; they are collecting chits with the press to be cashed in later.....

(Excerpt) Read more at buzzfeed.com ...
---
TOPICS: Conspiracy; Politics; Society; TV/Movies
KEYWORDS: edwardsnowden; msm; nsa; obama
---
Navigation: use the links below to view more comments.
first previous 1-20, 21-40, 41-42 last
---
To: AlexW
As I see what is happening there, I can not imagine trying to return and live on my small pension, or live in the hell that is facing the population.
So, you think that the U.S. has "gone farther down the tubes" than the Philippines? That the Philippines (in comparison to the U.S.) is a bastion of moral rectitude, a shrine to free enterprise, and a protector of civil liberties? Elections there are more honest? There is less social unrest? Muslim extremists have less of a foothold there in the Philippines? Acts of terrorism are less frequent? Your 2nd Amendment rights and thus your ability to protect your family in the event of a breakdown of civil order are in better shape than in the U.S.?
Sorry if it sounds like I'm spoiling for a fight, or beating a dead horse, but it's just that countless Freepers (and even others) have, in recent years, been extolling the virtues of foreign lands.
However, if, for you, it's a matter primarily of personal economics (i.e., getting by on a small purse)...
Regards,

41
posted on
06/24/2013 9:20:26 PM PDT
by
alexander_busek
(Extraordinary claims require extraordinary evidence.)
---
To: alexander_busek
"So, you think that the U.S. has "gone farther down the tubes" than the Philippines?"
___________________________________________________
You are comparing apples to oranges.
You would say that the Philippines is already down the tubes, but I say that America is rapidly decaying, and no longer resembles the country that I grew up in, and it is going to get worse. I no longer have to make plans and dispose of properties when it becomes too late.
The Philippines is a third world country, and yes there is poverty and corruption.
Philippine politics have little impact on expats, other then those on tourist visas, and for a very small amount of money, one can live a very nice life....a fraction of cost in the USSA. There are months when my wife, child, and myself need over $500 per month, and that includes rent and food. We live on a beach in an apartment with A/C and Sat TV. We have no need or desire for a car. I bicycle to the market every day.
Expats come here to live a life in retirement, not to do business. They are welcomed and live very nice lives here.
Just in my small municipality there are expats from all over the world.
Once on a permanent resident visa, we have little or no contact with the government. The only tax is a VAT tax on what we buy in a store.
I am no longer stuck in the USSA. If SHTF happens here, I can move on, even go back to Europe.
We do not have the government telling us what we must do.
Keep in mind, I do not suggest or recommend the Philippines for American families... husband, wife, and kids.
I rarely even see an American woman here.
For a western man, however, this is paradise.
I know of only one expat, a Swed, married to a local girl from here that was always upset with the culture and the way things were done. He thought Langkawi, Malaysia would be the cat's meow. Well, he lasted there about a year and got fed up with the Muzies. He is now in the Canary Islands.
As I have posted before, couples would best be suited to think about Central and South America.
There is no heaven on earth, but there sure are some Hells.
America's illegal immigrant Muzie POTUS will make sure that you live in one.
---
Navigation: use the links below to view more comments.
first previous 1-20, 21-40, 41-42 last
---
---
FreeRepublic.com is powered by software copyright 2000-2008 John Robinson