---
To: Oldpuppymax; null and void
Did someone mention conspiracy theories?
5
posted on
09/11/2013 9:08:37 AM PDT
by
Old Sarge
(Opinions are like orgasms: only mine count, and I couldn't care less if you have one...)
---
To: Old Sarge; COUNTrecount; Nowhere Man; FightThePower!; C. Edmund Wright; jacob allen; ...
It's a sad thing when a perfectly good conspiracy theory is ruined by reality catching up with it...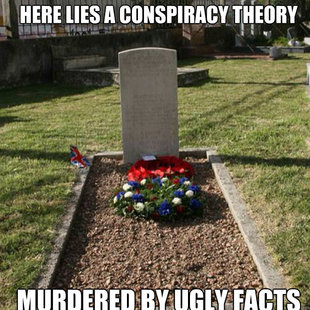 Nut-job Conspiracy Theory Ping!
To get onto The Nut-job Conspiracy Theory Ping List you must threaten to report me to the Mods if I don't add you to the list...

9
posted on
09/11/2013 9:45:47 AM PDT
by
null and void
(I'm betting on an Obama Trifecta: A Nobel Peace Prize, an Impeachment, AND a War Crimes Trial...)
---
FreeRepublic.com is powered by software copyright 2000-2008 John Robinson