---
WWII Vets Plan to Storm Barricades at Lincoln Memorial, After Obama 'Goons' Close Sites Down
Stand With Arizona ^ | 10-02-2013 | John Hill


Posted on 10/02/2013 8:40:41 AM PDT by montag813
Above: National Park Service workers setting up new barricades this morning, around the Lincoln Memorial in Washington, D.C.
-
Yesterday, the Obama Administration got real petty over the partial government shutdown, sending employees to barricade memorial sites around Washington that are normally open 24/7.
Thankfully, one group of WWII vets wasn't having ANY of it - removing barricades, with the help of fantastic GOP Reps. like Steve King (R-IA) and others - and refusing to be denied access to THEIR World War II Memorial.
Well today, another group of WWII vets plan to do the same thing at the Lincoln Memorial, as Weasel Zippers reports...
The same veterans group that managed to storm the gates at the WWII memorial yesterday is planning taking on the fences at the Lincoln Memorial today. This sounds like a capitol idea, pun intended.

Both memorials are open air memorials. The Lincoln Memorial is open 24 hours a day, normally. If you'll recall, it was wide open to having someone throw green paint on it in the evening a few months ago.

So that means the Obama administration is making a conscious effort to spend more in time and money to shut off something which is normally open.

How ridiculous is this effort by President Obama to make the people "hurt" so he can blame it on Republicans, just as he did with the sequester, which was also his idea?

We still don't have access to the White House, the people's house, allegedly because of the sequester, although Obama has spent countless of our millions since then on vacations, parties and golf.

When you have the opportunity to pass bills for veterans and national parks,unconnected to Obamacare, and then don't pass them, or spend more to close spaces then to keep them open, the reason is simply you want to continue to have people feel the pain.

And that, Mr. President, is sick.
Members of Congress are reaming Obama over the disgraceful barricading of these open-air public memorials.

Sen. Rand Paul (R-KY) blasted the administration for trying to block the World War II vets yesterday, saying "some idiot in government sent goons out there to set up barricades."

This morning those same "goons" - who somehow are on the job despite most certainly being "non-essential" - were setting up fresh barricades around major open-air memorial sites around D.C. (see photo below of their activities at the WWII Memorial around 9am).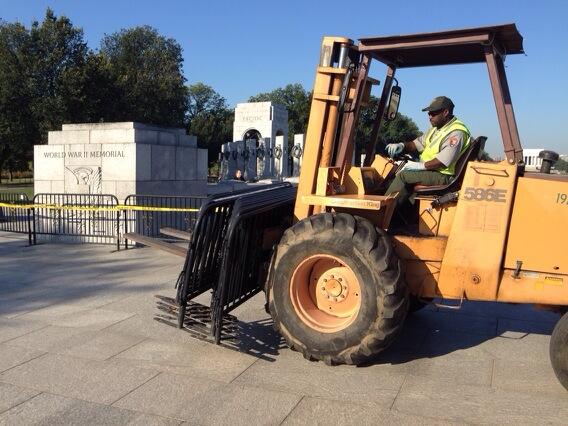 As with his absurdly shutting off the "Panda Cam" at the National Zoo - which is already fully-funded by the Ford Motor Company Fund - Obama is using the shutdown as a political tool, just as he disgracefully did with the Sequestration.
Remember, during the sequestration - in fact, before it even took effect - Obama's DHS insanely , citing non-existent budget cuts. Those released aliens contained dozens of violent criminals, most of whom are still at large.
SWA salutes the "Greatest Generation" vets who stormed the beaches, for taking on Obama's goons by storming the memorials this week. We urge anyone in the D.C. Metro area to JOIN THEM, and refuse to be barred from the People's Memorials by political games.

---
TOPICS:
KEYWORDS: backoffbarry; barrycades; bhofascism; congress; democrats; donttreadonme; govtabuse; liberalfascism; memorials; obama; shutdown; tyranny; wwiimemorial; wwiiveterans; wwiivets
---
Navigation: use the links below to view more comments.
first 1-20, 21-40, 41-60, 61-80 ... 121-132 next last
---
---
---
---
---
---
---
---
---
---
---
---
---
---
---
---
---
---
---
---
---
Navigation: use the links below to view more comments.
first 1-20, 21-40, 41-60, 61-80 ... 121-132 next last
---
---