---
Anti-Amnesty protest against Rubio at Joni Ernst HQ
https://twitter.com/MichaelBiundo/status/473617548395945984 ^
Posted on 06/02/2014 6:15:30 PM PDT by ObamahatesPACoal
@SteveDeaceShow did you see the protesters at the @joniernst @marcorubio event? #iasen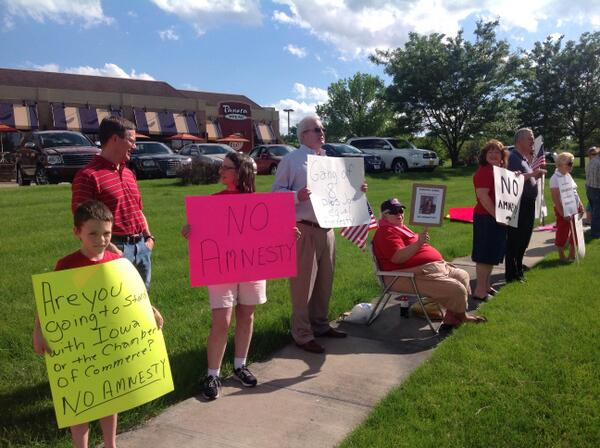 (Excerpt) Read more at twitter.com ...
---
TOPICS: Local News
KEYWORDS: amnesty; chamber; ernst; rubio

That kid is smarter than Rubio.

---
To: ObamahatesPACoal
Deace is forgettable.
He never was anybody...

---
To: ObamahatesPACoal
Let's focus on putting Ernst and McDaniel in the Senate. This sideshow stuff is not helpful.
If Ernst is pro-amnesty, then protest her or support her opponent.
---
To: SoFloFreeper
Please check out the thread where the BP in Texas is getting overrun by literally thousands of illegal aliens. Or the other threads with minority illegals risking death coming here.
This nation is under assault; illegal immigration is THE top issue facing this country. I don't want to live in a nation where there's rusted out El Caminos on lawns, garishly-painted buildings advertising Mexican food or grocery stores, kids riding tricked-out banana-seated bikes hoisting Mexican flags on September 11th, and parks spray-painted with images of Cesar Chavez or other Latino icons.

---
To: Extremely Extreme Extremist
Sux when the criminals are in charge.
5
posted on
06/02/2014 7:08:06 PM PDT
by
bicyclerepair
(The zombies here elected alcee hastings. TERM LIMITS ... TERM LIMITS)
---
FreeRepublic.com is powered by software copyright 2000-2008 John Robinson