---
A different perspective: Pakistani journalists cover Bergdahl story for folks at home
The Idaho State Journal ^ | June 15, 2014 | Michael H. O'Donnell


Posted on 06/15/2014 5:54:12 PM PDT by 2ndDivisionVet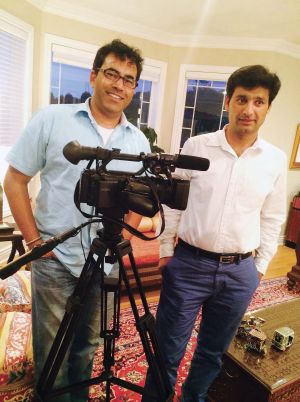 Cameraman Ilyas Khan, left, and reporter Iftikhar Hussain, two Pakistani journalists working for Voice of America, covered the reaction of the Hailey community to the release of Bowe Bergdahl from Taliban custody last week.
Two Pakistani journalists stopped in Pocatello last week on their way to Hailey to cover the story of American soldier Bowe Bergdahl's release with listeners in the tribal region of northeast Pakistan.
Ifthikhar Hussain and his cameraman, Ilyas Khan, work for Voice of America. Voice of America, operated by the U.S. government, provides programming for broadcast on radio, television and the Internet outside of this country in 43 languages. Hussain works principally for Deewa Radio, the only live broadcast to the tribal region of Pakistan, where Bergdahl was held captive for much of his five years as a POW.
"Our primary audience is the Pakistan tribal region," Hussain said, adding the language is Pashto. "Bowe Bergdahl's father speaks Pashto and I was hoping to get an interview with him."
That interview did not take place, but the two Pakistani journalists did interview a number of people in Hailey, and their stories were shared with an audience in the remote areas of Pakistan.
"The Taliban listens to us in that region," Hussain said.
Those listening heard a slice of life from the small Idaho resort town where Bergdahl grew up.
"They have a lot of support for Bergdahl," Hussain said about Hailey residents. "They were not buying into the controversies."
Following the release of Bergdahl from captivity by the Taliban, Hailey was planning a large celebration, which was cancelled in large part because of threats made to the community. Many people, including active members of the U.S. Army, have stated that Bergdahl deserted his post in Afghanistan and should face a court martial. The soldier is currently undergoing treatment and evaluation at Brooke Army Medical Center in Texas.
"They (Hailey residents) don't understand why people are pre-judging Bergdahl," Hussain said.
The Pakistani journalist said he interviewed Blaine County commissioner Larry Schoen.
"I talked to him, and he said it is ridiculous that they are receiving death threats in emails and phone calls," Hussain said.
Hussain said his job as a journalist was to provide a glimpse into the world where the released solider had been raised.
"These people have seen Bergdahl growing up as a boy," Hussain said.
Among those who Hussain interviewed was Bergdahl family friend, Sue Martin, and she expressed her hope that Americans would not rush to judgement on Bowe Bergdahl's actions.
"They are very friendly and open people," Hussain said about the residents of Hailey he interviewed.
One of the things that struck the journalist most was the landscape around Hailey, which he said reminded him of where he grew up in Pakistan with mountains and sweeping vistas.
"We had the same landscape when I was a kid," Hussain said. "I remember climbing hills like this near my school when I was a little boy."
All of Hussain's observations and interviews were broadcast by Voice of America to people half a world away where the mountains are home to terrorists from both Pakistan and Afghanistan.
"I'm glad to bring the American perspective on this important issue," Hussain said. "We are trying to share what the American people are thinking."
Before going to work for Voice of America, Hussain worked for Pakistani newspapers and he shared that journalism is a dangerous profession in his home country. Pakistan has is ranked among the world's most dangerous places for journalists, according to data compiled by organizations such as the Committee to Protect Journalists and Reporters Without Borders. In the past decade, 44 journalists have been killed in Pakistan.
And Hussain said both the terrorists and the government itself have had a hand in the violence against fellow journalists.
"I had a friend who was a reporter for the New York Times, and he was detained by Pakistani agencies," Hussain said.
The danger of reporting the news in Pakistan or around the world doesn't deter Hussain.
"I love bringing information to people," he said. "This means a lot to me."

---
TOPICS: Local News; Military/Veterans; TV/Movies
KEYWORDS: bergdahl; idaho; pakistan; talkradio



---
To: 2ndDivisionVet
two Pakistani journalists working for Voice of America??
what is wrong with this picture???
2
posted on
06/15/2014 6:50:01 PM PDT
by
MeshugeMikey
( "Never, never, never give up". Winston Churchill)
---
To: MeshugeMikey
You think there are a lot of kids from Mobile or Jackson who can speak Pashto?
3
posted on
06/15/2014 7:30:01 PM PDT
by
Vermont Lt
(If you want to keep your dignity, you can keep it. Period........ Just kidding, you can't keep it.)
---
FreeRepublic.com is powered by software copyright 2000-2008 John Robinson