---
Thoughts on the Taurus TX22 vs. the New Glock 44 Pistol
AmmoLand ^ | 15 December, 2019 | Dean Weingarten


Posted on 12/17/2019 4:59:49 AM PST by marktwain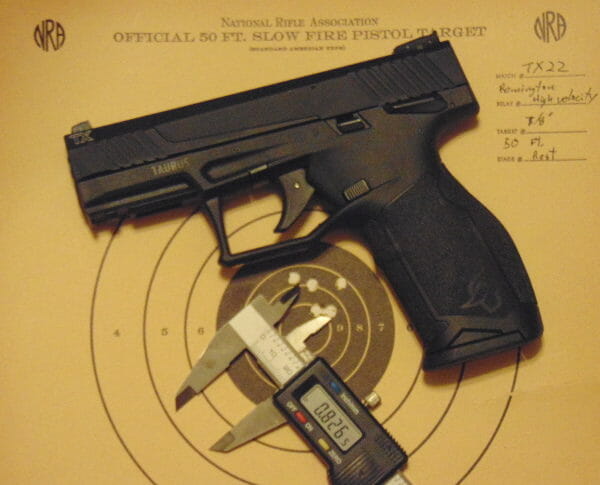 I seldom do gun reviews. They take a lot of time to do right; many others are already doing them. That doesn't mean I won't comment on items that deserve it.
I mentioned the Taurus TX22 from the Shot Show last year. I was impressed with the pistol. I recently acquired one, by purchase, at the normal price.
It is an impressive pistol, a great choice for nearly everything a .22 pistol is called upon to do. I have had a hard time finding serious accuracy testing of the pistol online, so I did what I could at the ranch, off of sandbags, with the stock sights.
The best results are shown in the picture. A five-shot group under an inch at 50 feet is respectable accuracy for a stock .22 that can be had for $250. I believe someone with excellent eyes and skill could consistently get 1-inch groups at 50 feet, off a rest, once they found the ammo that shot best. One commenter online, who installed a red dot sight, claimed consistent .8 inch groups at 50 feet, from a rest. A video review showed 10 shot groups at 25 yards of about 1.5 inches, using a scope sight in windy conditions. It is not match target accuracy, but it is not terribly far off. It is much better than most shooters can use in most situations.

(Excerpt) Read more at ammoland.com ...
---
TOPICS:
KEYWORDS: banglist; glock44; guncontrol; tx22
---
---
---
---
---
---
---
---
---
---
---
---
---
---
---
---
---
---
---