---
Wanted: "Machine Gun Sammy" Alito!(24 bag barf alert take pepto bismol before reading)
email | 11 17 05 | freedom states alliance


Posted on 11/17/2005 1:49:58 PM PST by freepatriot32

WANTED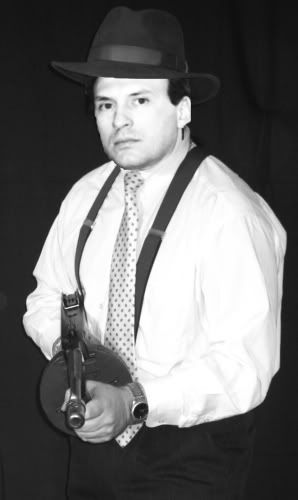 SAMUEL "MACHINE GUN SAMMY" ALITO
is WANTED for:
-Voting to strike down the 1986 federal machine gun ban. In the 1996 case U.S. v. Rybar, Judge Alito was the lone dissenter in the decision upholding the conviction of a gun dealer who sold illegal machine guns at a Pennsylvania gun show.
Possession of an unusual and extremely restrictive view of Congressional regulatory power. Alito (also called "Scalito" by his associates because of his similarity to conservative Judge Antonin Scalia) is known to possess views that could imperil virtually every federal law that regulates firearms, ammunitions, and explosives.
Known consortion with practically criminal organizations, including the NRA. The NRA's opinions almost completely mirror Alito's own, as they also worked to destroy the 1986 federal machine gun ban, and made plans to "actively work toward the repeal of the recent machine gun ban and will take all necessary steps to educate the public on the sporting uses and legal ownership of automatic firearms." Their efforts in that case failed.
Threatening the future of the country. If Samuel Alito's minority opinion were to become reflected in our nation's Supreme Court, all Americans would be at even greater risk from uncontrollable firearms proliferation. In a time of increased concern from terrorist threat, Alito's views aren't just radical, they're dangerous.
"MACHINE GUN SAMMY" IS TO BE CONSIDERED ARMED (with extreme political views) AND DANGEROUS (to the nation's future) AT ALL TIMES!
Approach with caution, and UNDER NO CIRCUMSTANCES should you approve this man's nomination to the Supreme Court.
(All statistics from Violence Policy Center's informative backgrounder on Judge Samuel Alito)

---
TOPICS:
KEYWORDS: 24; alito; alitoakbar; bag; bang; banglist; barfalert; before; donutwatch; govwatch; libertarians; machinegunsammy; nra; peptobismol; reading; scotus; take; wanted
---
---
---
---
---
---
---
---
---
---
---
---
---
---
---