---
To: RegulatorCountry
Don't know about "yaller dogs," but found this information after my daughter got a Catahoula:
Once called a "Catahoula Cur," the foundation of the Louisiana Catahoula Leopard Dog came into existence through chance breeding and from some planned breeding. The Indians in and around Louisiana used the Red Wolf, which then roamed Louisiana during this period, to locate game, much in the same manner as hunters use their dogs today. Hernando DeSoto had traveled from Florida into Louisiana, bringing with him the "War Dogs" that had made the journey to the New World. The breeds that were referred to as War Dogs were the Greyhound and the Mastiff. Research has shown that the Mastiff type of dog that accompanied him was probably those known as the "Alano Mastiff" of Spain, which are now extinct. These Mastiffs had a reputation of being able to pull down very large game with ease. DeSoto utilized their abilities to persuade the Indians to provide information on the whereabouts of Gold and Treasure. Mostly those already owned by the Indians.
After suffering defeat in battle, DeSoto abandoned his War Dogs which were allowed to roam freely. They bred and interbreed with each other along with the Red Wolf. The offspring of the various breedings were then used by the Indians, and became known as the "Wolf Dog." The Wolf Dog, which is mentioned in Louisiana History, as well as most history books covering this era, was the name given to them by Henri Tonti during one of his visits to Louisiana.
By the early 1700's the French had started arriving in Louisiana. Hearing the stories of Tonti of the abundance of game in Louisiana the French brought with them a dog known as the "Bas Rouge," or Red Stockings. This dog has also been called the "Berger de Beauce." Today that very dog is known as the Beauceron. The French bred their dogs with those of the Indians' Wolf Dog, and together these four canines contributed to the inception of the Catahoula that we know today.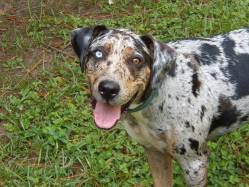 4
posted on
03/28/2006 11:08:47 AM PST
by
colorcountry
(Some folks wear their halos much too tight)
---
To: colorcountry
Am I mistaken, or doesn't having two different eye colors indicate chimerism, having two distinct genetic makeups? The only other breed I've seen with eyes like that is the Australian Shepherd.
---
To: colorcountry
The most vicious animal I have ever encountered was a Catahoula ...
I hope never to see another one.

12
posted on
03/28/2006 11:39:25 AM PST
by
caryatid
(Jolie Blonde, 'gardez donc, quoi t'as fait ...)
---
FreeRepublic.com is powered by software copyright 2000-2008 John Robinson