---
Freaky fish turns up far inland
http://www.philly.com/inquirer/local/nj/8105827.html ^
Posted on 07/01/2007 6:18:41 PM PDT by traumer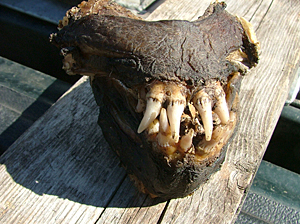 As soon as he viewed the photo - those fanglike teeth, like something out of a horror movie - John Lundberg knew what the mystery creature was.
"Once you see one of these things, you don't forget it," says Lundberg, curator of fishes at the Academy of Natural Sciences.
It was a wolf eel, a 6-foot-long - docile, despite appearances - inhabitant of deep waters off the North Atlantic coast, including New Jersey.
The puzzle: How did the smelly, half-decomposed specimen get to a fox den in Hunterdon County?
Susan Goeckeler had been walking with her dogs on her 50-acre farm outside Frenchtown one afternoon about six weeks ago when she came across the unusual jaws.
Her sons Rowan, 7, and Jarred, 13, are always finding snakeskins and skulls and such, "but usually we can identify them."
She called a neighbor who hunts, thinking it might be a bear skull. Nope.
Jarred, a seventh grader, took it to school. No luck there. Nor online.
Goeckeler finally brought photos to the state wildlife management office in nearby Clinton.
Baffled, the staff asked her to bring in the jaw. They checked with colleagues in the endangered species program next door. Same deal.
"We're all terrestrial guys," says principal biologist Kelcey Burguess. Still, he says, the evidence was unmistakable, not to mention overpowering: "It had a fish smell."
Photos went from there to state fisheries folks, who forwarded them to the museum in Philadelphia.
That's where the specimen is now. The staff has immersed it in a bath of alcohol, "trying to take the edge off" the stench, Lundberg says.
The curator of fishes says he doesn't know which of several wolf eel species it is, but the genus is Anarhichas. And it's not a true eel, he says, but a type of fish that is edible.
"They're on the bottom and hang out in rocks, poking their heads out and snagging crabs," he says, adding that the creature breaks the hard shells with its powerful jaws. "It looks just like a tool for cracking crabs and lobsters that you get in a restaurant."
The academy plans to display the specimen, along with two others from its collection, from 10 a.m. to 1 p.m. Saturday, says research and curatorial assistant Kyle Luckenbill, who will answer questions.
Meanwhile, the question remains: How did a deepwater marine species wind up more than 50 miles from the nearest beach? (A saltwater eel, it could not have swum up the Delaware River.)
Lundberg's best guess is that locals caught it while fishing at the Jersey Shore. Or found it while beachcombing.
Then they brought it home, skipping what would have been his final step:
"I'd bring the head home and mount it."

---
TOPICS: Pets/Animals
KEYWORDS: callingartbell; coastalenvironment; cryptozoology; environment; nj
---
Navigation: use the links below to view more comments.
first 1-20, 21-40, 41-52 next last
---
---
---
---
---
---
---
---
---
---
---
---
---
---
---
---
---
---
---
---
---
Navigation: use the links below to view more comments.
first 1-20, 21-40, 41-52 next last
---
---