---
World Series Live Thread: Colorado Rockies vs. Boston Red Sox
YahooSports.com ^ | 10-23-07 | Yahoo! Sports


Posted on 10/23/2007 5:50:12 PM PDT by GraniteStateConservative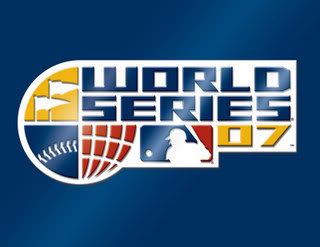 Game 1 at Boston (Wed., Oct. 24, 8:35 p.m.)
Josh Beckett vs. Jeff Francis
Game 2 at Boston (Thurs., Oct. 25, 8:29 p.m.)
Curt Schilling vs. Ubaldo Jimenez
Game 3 at Colorado (Saturday, Oct. 27, 8 p.m.)
Daisuke Matsuzaka vs. Josh Fogg
Game 4 at Colorado (Sunday, Oct. 28, 8 p.m.)
Aaron Cook vs. Jon Lester
Game 5* at Colorado (Monday, Oct. 29)
Game 6* at Boston (Wednesday, Oct. 31)
Game 7* at Boston (Thursday, Nov. 1)
AccuScore has run more than 10,000 simulations for every World Series game for Yahoo! Sports, calculating how each team's performance changes in response to game conditions, opponent's abilities, roster moves, weather and more. Each game is simulated one play at a time and the game is replayed a minimum of 10,000 times to generate forecasted winning percentages, player statistics and a variety of game-changing scenarios.
Boston winning 66.8 percent of World Series simulations
AccuScore simulates each playoff game and the entire playoff series 10,000 times. This season, the team that has won over 50 percent of series simulations won their series with one exception: New York won 51 percent of simulations over Cleveland. AccuScore correctly projected Colorado to upset both Philadelphia and Arizona, but in simulations vs. Boston, the Red Sox ride home-field advantage and the dominant pitching of Josh Beckett to win 66.8 percent of series simulations.
The forecast below is based on the designated starters and was run on data available as of October 23. AccuScore's proprietary algorithm weights each game's data, and as each game is played the simulation winning percentages will change. The simulation winning percentages also will change if the projected starters change.
Game
Starters
COL
BOS

Game 1
Francis vs. Beckett
31.2%
68.8%

Game 2
Jimenez vs. Schilling
35.7%
64.3%

Game 3
Matsuzaka vs. Fogg
52.1%
49.2%

Game 4
Lester vs. Cook
56.3%
43.7%

Game 5
Beckett vs. Francis
45.9%
54.1%

Game 6
Jimenez vs. Schilling
35.7%
64.3%

Game 7
Fogg vs. Matsuzaka
39.0%
61.0%

WIN SERIES
33.2%
66.8%
Red Sox 25-man Roster
PITCHERS (11): Josh Beckett, Manny Delcarmen, Eric Gagne, Jon Lester, Javier Lopez, Daisuke Matsuzaka, Hideki Okajima, Jonathan Papelbon, Curt Schilling, Kyle Snyder, Mike Timlin.
CATCHERS (2): Doug Mirabelli, Jason Varitek.
INFIELDERS (7): Alex Cora, Eric Hinske, Mike Lowell, Julio Lugo, David Ortiz, Dustin Pedroia, Kevin Youkilis.
OUTFIELDERS (5): Coco Crisp, J.D. Drew, Jacoby Ellsbury, Bobby Kielty, Manny Ramirez.
Rockies 25-man Roster
PITCHERS (11): Jeremy Affeldt, Aaron Cook, Manuel Corpas, Josh Fogg, Jeff Francis, Brian Fuentes, LaTroy Hawkins, Matt Herges, Ubaldo Jimenez, Franklin Morales, Ryan Speier.

CATCHERS (2): Chris Iannetta, Yorvit Torrealba.

INFIELDERS (5): Garrett Atkins, Jamey Carroll, Todd Helton, Kazuo Matsui, Troy Tulowitzki.

OUTFIELDERS (7): Jeff Baker, Brad Hawpe, Matt Holliday, Seth Smith, Ryan Spilborghs, Cory Sullivan, Willy Taveras.

---
TOPICS: Sports
KEYWORDS: champions; coloradorockies; congratulations; mlb; redsox; redsoxwinitall; rox; sox; ws
---
Navigation: use the links below to view more comments.
first 1-20, 21-40, 41-60, 61-80 ... 2,281-2,291 next last
---
---
---
---
---
---
---
---
---
---
---
---
---
---
---
---
---
---
---
---
---
Navigation: use the links below to view more comments.
first 1-20, 21-40, 41-60, 61-80 ... 2,281-2,291 next last
---
---