---
Today in US history: The Battle of the Washita (1868)
Custerwest website (300 pages, 60 videos, 20 specialist) ^ | 11/27/07 | drzz


Posted on 11/27/2007 10:25:10 AM PST by drzz
THE BATTLE OF THE WASHITA (November 27, 1868, Indian territory - modern-day Oklahoma)
Gregory F. Michno, ENCYCLOPEDIA of Indian Wars 1850-1890, pages 226-227
"On November 12, 1868 , 11 companies of the 7th Cavalry under Lt. Col. George A. Custer, 3 companies of the 3rd Infantry, 1 of the 5th Infantry, 1 of the 38th Infantry, and about 450 wagons set out from Fort Dodgefor Indian territory to seek out hostile Indians.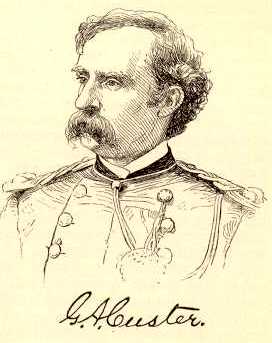 Across a snow-covered landscape Custer followed Indian trails to a 50-lodge Cheyenne village on the banks of the Washita River. Early on the frigid morning of 27 November, nearly 700 men of the 7th Cavalryprepared to attack. To the tune of "Garry Owen", Custer charged into the village with his four battalions: Maj. Joel Elliot with Companies G, H and M came in from the northeast; Capt. William Thompson with Companies B and F, from the south; Lt. John M. Johnson with E and I attacked from the southwest; and Custer with A, C, D and K, from the west.
The troops burst into the village, cutting down the Indians as they fled their lodges. The soldiers were also hit: one captain was killed by a bullet in the chest, and another was severely wounded in the abdomen. Maj. Elliot cut loose with 18 men of various companies to chase some Indianswho had escaped to the east, reportedly calling out, "Here goes for a brevet or a coffin".
Elliot was cut off and his party killed. During the battle, the Cheyennes killed two of four white captives (Clara Blinn and Willie Blinn, from Kansas). It is uncertain whether Custer was able to rescue the other two.
(Clara Blinn, abducted by Black Kettle's warriors and murdered by them when Custer attacked. Her son was smashed against a tree. Both bodies were scalped)
After soldiers killed Chiefs Black Kettle and Little Rock, Custer captured the camp, burned tipis and supplies, and shot 875 Indian ponies. As more Indians gathered from other camps downriver, Custer made a feint downstream, sending them back to protect their villages.
Doubling back in the gathering darkness, Custer returned to his supply train and headed home, reaching Camp supply on 1 December. Custer captured 53 women and children during the mission and reported 103 Indians killed, though the Cheyennes claimed it was half that number.
The army lost 21, with 16 wounded."
Testimony by a private:
"When it was fully daylight, we all gave a big yell and charged right down into camp. The lodges were all standing yet, and lots of Indians in them. As we ran through the alleys a big red jumped out at me from behind a tent, and before I could shorten up enough to run him through with my bayonet, a squaw grabbed me around the legs and twisted me down. The camp was then full of men fighting, and everybody seemed yelling as loud as he could. When I fell I went over backward, dropping my gun, and I had just got part way up again, the squaw yanking me by the hair, when the Indian clubbed my gun and struck me across the neck. He might just as well have run me through, but he wasn't used to the bayonet, or didn't think. The blow stunned me; it didn't hurt me the least, but gave me a numb feeling all over. I couldn't have got to my feet then if all alone, while the squaw kept screeching and pulling my hair out by the handful.I heard some of our boys shouting close by, and the squaw started and ran - one of the boys killing her not three rods off. The Indian stepped one foot on my chest, and with his hand gathered up the hair near the crown of my head. He wasn't very tender about it, but jerked my head this way and that and pinched like Satan. My eyes were partially open, and I could see the bead work and trimming on his leggings. Suddenly I felt the awfulest biting, cutting flesh go on round my head, and then it seemed to me just as if my whole head had been jerked clean off. I never felt such pain in all my life; why it was like pulling your brains right out. I didn't know anymore for two or three days, and then I came to, to find that I had the sorest head of any human being that ever lived. If the boys killed the viper, they didn't get back my scalp; perhaps it got lost in the snow. I was shipped down to Laramie after a bit, and all the nursing I got haint made the hair grow out on this spot yet." (private Delos Sanbertson)
---
TOPICS: History
KEYWORDS: 1868; 186811; 18681127; 7thcavalry; ancestors; blackkettle; blinn; cheyenne; clarablinn; culture; custer; garryowen; georgeacuster; georgecuster; history; indians; iraq; military; november; oklahoma; roots; scalped; scalping; usa; washita; washitariver; west; willieblinn; wot



---
To: drzz
Funny how the Union forces, fresh from battle to liberate the slaves from the plantation then went on to liberate the Plains and place all the savages on government plantations.
2
posted on
11/27/2007 10:31:50 AM PST
by
Old Professer
(The critic writes with rapier pen, dips it twice, and writes again.)
---
To: drzz
1868 War On Terror in Indian Territory
"We salute the heroes who fought and fell to destroy Black Kettle's terror base (100 to 120 warriors killed), and the white hostages who were murdered by Black Kettle's gangmen.
As usual, we particularly salute Clara Blinn and her son, innocent victims of the "peaceful tribe" who are still ignored and tarnished by an amnesic America. It's not the first time the USA let them down.
Today, as the National Park Service continues to honor Black Kettle as a "peaceful chief" (which means that terrorists become peaceful when they are dead), Clara Blinn's name is used by a Native American gallery as a trademark.
It's hard to imagine that so many cowards and politically correct ayatullahs are living in Oklahoma. We are ready to see Timothy McVeigh being called "a peaceful man" and honored with a museum anytime soon." (custerwest.org)
---
To: Old Professer
If you look at the reservations, with 40% of the energetic products of the whole USA, ten times bigger than Belgium, with governement funds... That's pretty good for "slaves"... No pioneer got that much, but built much more that the Indians.
---
To: drzz
An interesting article and website. Thanks for posting.
---
To: Southside_Chicago_Republican
You're welcome
I loved the article on the Battle of Summit Spring that I found on FreeRepublic one day. I tried to post what happened in US history on the very day, but I missed OK Corral, on October 21th.
---
FreeRepublic.com is powered by software copyright 2000-2008 John Robinson