---
Today's B'day...er, thing: Sonic the Hedge Hog (June 23,1991)
Answers.com ^
Posted on 06/23/2008 6:02:59 AM PDT by yankeedame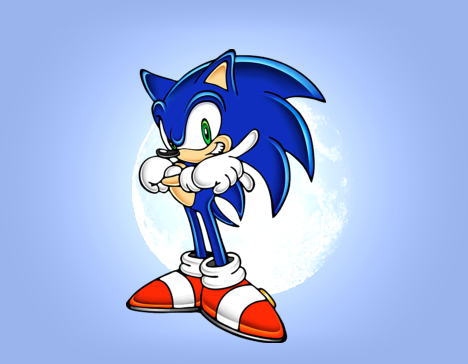 Sonic the Hedgehog is a platform game developed by Sonic Team and published by Sega for the Mega Drive/Genesis system.
It is the inaugural game in Sega's flagship Sonic the Hedgehog video game series, and was the first title developed by Sonic Team.
It was first released on June 23 1991 in North America, and the next day in Europe. The Japanese Mega Drive version was released on July 26 1991.
This game propelled the Genesis into mass popularity in North America. After it was released, it eventually replaced Altered Beast as the game bundled with the console, and was later replaced with its first sequel, Sonic the Hedgehog 2.
The game featured many novel elements which contributed to its popularity and helped to promote the uptake of 16-bit consoles.
Sonic the Hedgehog added the element of speed to the standard platform formula and introduced other unique elements as well, such as the loops, springboards, high-speed devices, and the rings now permanently associated with the game series.
---
TOPICS: Computers/Internet; History; Miscellaneous
KEYWORDS:
When Sonic the Hedgehog cosplay goes horribly wrong
---
To: yankeedame
Today is my birthday too !
---
To: yankeedame
I had the original version when Sonic first came out. However, the pic of the guy in the suit is just weird....
---
To: yankeedame
Now he's whomping it up in Super Smash Brothers Brawl! Nintendo wins again!
4
posted on
06/23/2008 6:32:54 AM PDT
by
EarthBound
(Ex Deo,gratia. Ex astris,scientia (Who the hell do I vote for now?))
---
To: yankeedame
My son's been playing both a new game for Wii and some classic games that he picked up. He even saw an old cartoon on TV.
5
posted on
06/23/2008 7:01:06 AM PDT
by
Tanniker Smith
(Teachers open the door. It's up to you to enter.)
---
To: Celerity
Hey, it's my birthday too!
Happy Birthday.
You, me and Sonic share a BD. LOL

6
posted on
06/23/2008 7:01:51 AM PDT
by
processing please hold
( A gov. big enough to give you everything you want, is strong enough to take everything you have)
---
FreeRepublic.com is powered by software copyright 2000-2008 John Robinson