---
On Long Island, faith, freedom among Hanukkah themes
newsday ^
Posted on 12/21/2008 11:30:52 AM PST by JoeProBono
The power of Hanukkah is rooted in miracles, including the legend of one night's oil that burned for eight days after Jewish warriors reconquered a sacred temple. The second century BC rededication of the Temple of Jerusalem is commemorated by Hanukkah, an eight-day festival that begins tonight. Today, more than 2,000 years later, Jewish leaders say that faith and hope continue to resonate as appropriate themes for a celebration taking place in difficult times. They cite the wars in Iraq and Afghanistan, the economic crisis and, locally, what police describe as the hate-crime death of an Ecuadorean immigrant in Patchogue. "In light of our current situation and the crisis we are going through, there is a message there that people can take to heart," said Rabbi Charles Klein of the Merrick Jewish Centre.

(Excerpt) Read more at newsday.com ...
---
TOPICS:
Religion
KEYWORDS:
hanukkah
---
To: All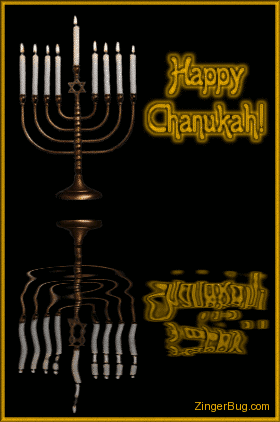 2
posted on
12/21/2008 11:32:48 AM PST
by
JoeProBono
( Loose Associations - Postcards from My Mind)
---
To: JoeProBono
Praying for miracles may be all that we have left.
---
To: JoeProBono
Barukh Atta Adonay Eloheynu Melekh Ha-olam Asher Kiddeshanu Be-mitsvotav Ve-tsivanu Lehadlik Ner Shel khanuka
---
FreeRepublic.com is powered by software copyright 2000-2008 John Robinson