---
To: cleveland gop
Re:
(THE CLEVELAND BROWNS---LAUGHING STOCK OF THE NFL!!!)
No, the Detroit Lions...
are the laughing stock of the NFL!
Your Browns...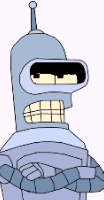 are the stain in the NFL's BVDs.
Hey, I didn't mean that! The Devilbot...
made me say that, clev, old sport!

40
posted on
01/03/2009 2:10:20 PM PST
by
Bender2
("I've got a twisted sense of humor, and everything amuses me." RAH Beyond this Horizon)
---
To: Bender2
These Redbirds are sure
bringing every bit of their 8-8 record to bare here.
41
posted on
01/03/2009 2:13:16 PM PST
by
big'ol_freeper
(Gen. George S. Patton to Michael Moore... American Carol: "I really like slapping you.")
---
To: Bender2
Hey, it's cool!!
The Browns suck, plain and simple. They make me want to go out and buy a PSL, so I could help the Ravens make money.......
Not really!!!
OK, Falcons settling down a bit, putting a good drive together.
43
posted on
01/03/2009 2:19:59 PM PST
by
cleveland gop
(THE CLEVELAND BROWNS---LAUGHING STOCK OF THE NFL!!!)
---
FreeRepublic.com is powered by software copyright 2000-2008 John Robinson