---
To: mainepatsfan; Bender2; cleveland gop
Ok, we have two potentially enjoyable matches today:
Vs
Vs
Lace 'em up boys!

30
posted on
01/18/2009 9:35:01 AM PST
by
big'ol_freeper
(He will never be my president)
---
To: big'ol_freeper; All
Go Buzzards!!! Go Stools!!!!
32
posted on
01/18/2009 9:36:16 AM PST
by
KevinDavis
(Thomas Jefferson: A little rebellion now and then is a good thing)
---
To: Allegra; big'ol_freeper; Lil'freeper; TrueKnightGalahad; blackie; Larry Lucido; Diplomat; Dysart; ..
Hi ya big, Lil, Allegra, True, Blackie...
all ya'll other Bendy's 'Gang of Hos & Yos' members! Glad to see you one and all!
Do even ask...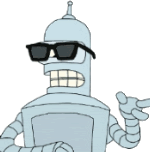 about my shades--
'cause...
I'll let you see why!
Now, last night...
I was thinking we'd need more beer at hand today.
So, boys and gals...
I went to Building a Bender Brewing Unit!
And this morning I finished building...
a brewery in my innards!
So ya'll all grab...
your very own bottle--
And fill it up...
and YES! Yes, it does give me a cheap thrill!
Now, a Stealers-Iggles, all PA Super bowl...
certainly scares the crap out of me!
So, forgive me, big, Go Dirty Birds...
and you Redarsed Birds, ya'll go, too!
Bender! For the last time, please...
stop calling me "Shirley!"

129
posted on
01/18/2009 11:44:26 AM PST
by
Bender2
("I've got a twisted sense of humor, and everything amuses me." RAH Beyond this Horizon)
---
FreeRepublic.com is powered by software copyright 2000-2008 John Robinson