---
WHAT'S NEW
For the first-time, the air show's lineup will include the Canadian Forces Snowbirds, Canada's premiere flying air demonstration squadron.
"These are acrobatic performers that people will love," Armyn says.
The Golden Knights, the U.S. Army's parachute team will float from the sky. Other scheduled performers: The Air Force Reserve Biplane Show with Ed Hamill; the Geico Skytypers (a squadron of six vintage World War II airplanes); historic warbirds from the American Airpower Museum at Republic Airport; Warbirds Over Long Island; and the 106th Rescue Wing of the New York Air National Guard.
Civilian performers include Sean Tucker and Team Oracle, named a "Living Legend of Flight" in 2003 by the Smithsonian Air & Space Museum; pilot Bill Reesman in the Red Bull MiG-17F; aerobatic pilot Matt Chapman; and the Red Bull Helicopter doing back-flips and barrel rolls.
THE THUNDERBIRDS
The air show wouldn't be complete without the legendary U.S. Air Force Thunderbirds, who are returning for another year and are expected to take to the skies near the end of the afternoon's events, between 2 and 3 p.m.
WHEN&WHERE: 10 a.m.-3 p.m. Saturday and Sunday, May 23-24, at Jones Beach State Park, Wantagh. Parking, $8, 631-321-3510, jonesbeachairshow.com.
IF YOU STILL WANT MORE AIR FUN . . .
Aviation buffs can see a display of operational American fighters, vintage World War II bombers, airborne transport planes, fighters, patrol planes, Vietnam-era helicopters and more before they take off to participate in the weekend air show at Jones Beach.
WHEN 9 a.m.-5 p.m. Friday through Memorial Day.
WHERE American Airpower Museum at Republic Airport, 1230 New Highway, Farmingdale
PHONE 631-293-6398
WEB americanairpowermuseum.com
This is the 6th year in a row we have hosted Memorial Day Weekend Airshow. So proud of our military.

---
To: alisasny
Last month I met a bunch of Air Force inspectors on a trip.
Also met a bunch of pilots in active duty and even a Navy Seal now retired, a female Master Sergeant..many more Navy as we were by Norfalk... planes flew over all day that Friday..also saw the giant plane in Atlantic City that was being inspected... Pilot would not tell me anything about the plane....
We were in Atlantic City and Virginia Beach.
Our military men and women due indeed love being told that they are appreciated and I have yet to find a pro Obama military person. Where are they? Are they antisocial?

2
posted on
05/22/2009 7:48:46 AM PDT
by
alisasny
(It's the oxymoronical existence of the average liberal moron that astounds anyone with a brain.)
---
To: alisasny
Oooooh, to be a kid again.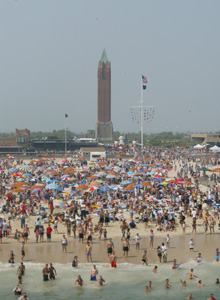 ---
To: alisasny
Rookies need not apply......
---
To: alisasny; June K.
Thunderbirds - Jones Beach 2005 - end of show, flying off into the sunset
---
FreeRepublic.com is powered by software copyright 2000-2008 John Robinson