---
Pope Benedict blasted Wright's communist "Black Liberation Theology" back in the 80s
various sources
Posted on 07/10/2009 7:18:19 AM PDT by ETL
Excerpt from The American Thinker
Article: Obama, Black Liberation Theology, and Karl Marx
May 28, 2008
Just one nugget from the Sacred Congregation for the Doctrine of the Faith, "Instruction on Certain Aspects of the 'Theology of Liberation': "...it would be illusory and dangerous to ignore the intimate bond which radically unites them (liberation theologies), and to accept elements of the marxist analysis without recognizing its connections with the (Marxist) ideology, or to enter into the practice of the class-struggle and of its marxist interpretation while failing to see the kind of totalitarian society to which this process slowly leads."--Joseph Cardinal Ratzinger, Prefect, now Pope Benedict XVI; written in 1984
Understanding that black liberation theology is Marxism dressed up to look like Christianity helps explain why there is no conflict between Cone's "Christianity" [i.e. 'reverend Wright's thing] and Farrakhan's "Nation of Islam." They are two prophets in the same philosophical (Marxist) pod, merely using different religions as backdrops for their black-power aims.
http://www.americanthinker.com/2008/05/obama_black_liberation_theolog.html
________________________________________________________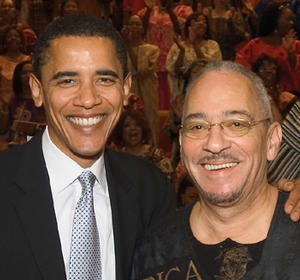 The Real Story Behind Rev. Wright's Controversial Black Liberation Theology Doctrine
Monday , May 5, 2008
FoxNews/Hannity's America
[special Friday night edition--original airdate May 2, 2008]
(some key excerpts)
["(Jose) Diaz-Balart is the son of Rafael Diaz-Balart y Guitierrez (a former Cuban politician). He has three bothers, Rafael Diaz-Balart (a banker), Mario Diaz-Balart (a US Congressman) and Lincoln Diaz-Balart (also a US Congressman). His aunt, Mirta Diaz-Balart, was Fidel Castro's first wife."
http://en.wikipedia.org/wiki/Jose_Diaz-Balart]
JOSE DIAZ-BALART, TELEMUNDO NETWORK: "Liberation theology in Nicaragua in the mid-1980's was a pro-Sandinista, pro-Marxist, anti-U.S., anti-Catholic Church movement. That's it. No ifs, ands, or buts. His church apparently supported, in the mid-'80s in Nicaragua, groups that supported the Sandinista dictatorships and that were opposed to the Contras whose reason for being was calling for elections. That's all I know. I was there.
I saw the churches in Nicaragua that he spoke of, and the churches were churches that talked about the need for violent revolution and I remember clearly one of the major churches in Managua where the Jesus Christ on the altar was not Jesus Christ, he was a Sandinista soldier, and the priests talked about the corruption of the West, talked about the need for revolution everywhere, and talked about 'the evil empire' which was the United States of America."
REV. BOB SCHENCK, NATIONAL CLERGY COUNCIL: "it's based in Marxism. At the core of his [Wright's] theology is really an anti-Christian understanding of God, and as part of a long history of individuals who actually advocate using violence in overthrowing those they perceive to be oppressing them, even acts of murder have been defended by followers of liberation theology. That's very, very dangerous."
SCHENCK: "I was actually the only person escorted to Dr. Wright. He asked to see me, and I simply welcomed him to Washington, and then I said Dr. Wright, I want to bring you a warning: your embrace of Marxist liberation theology. It is contrary to the Gospel, and you need, sir, to abandon it. And at that he dropped the handshake and made it clear that he was not in the mood to dialogue on that point."
Source: The Real Story Behind Rev. Wright's Controversial Black Liberation Theology Doctrine:
http://www.foxnews.com/story/0,2933,354158,00.html
________________________________________________________
Catholics for Marx [Liberation Theology]
By Fr. Robert Sirico
FrontPageMagazine.com | Thursday, June 03, 2004
In the days when the Superpowers were locked in a Cold War, Latin America seethed with revolution, and millions lived behind an iron curtain, a group of theologians concocted a novel idea within the history of Christianity. They proposed to combine the teachings of Jesus with the teachings of Marx as a way of justifying violent revolution to overthrow the economics of capitalism.
The Gospels were re-rendered not as doctrine impacting on the human soul but rather as windows into the historical dialectic of class struggle. These "liberation theologians" saw every biblical criticism of the rich as a mandate to expropriate the expropriating owners of capital, and every expression of compassion for the poor as a call for an uprising by the proletarian class of peasants and workers.
http://www.frontpagemag.com/Articles/Read.aspx?GUID=460782B7-35CC-4C9E-A2C5-93832067C7CD
_______________________________________________________
"God D*** America, U.S. to Blame for 9/11"
--Rev Dr. Jeremiah Wright, Obama's pastor for twenty years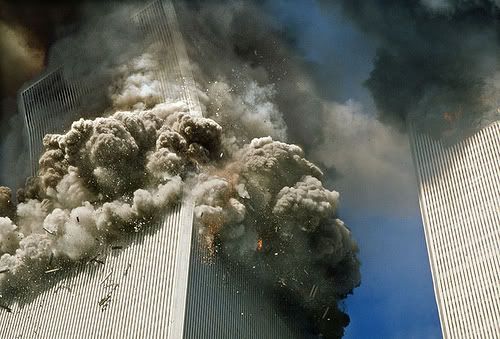 "America's chickens... are coming home... to ROOST!"
_______________________________________________________
"Their founding document [the Weather Underground's] called for the establishment of a "white fighting force" to be allied with the "Black Liberation Movement" and other "anti-colonial" movements[1] to achieve "the destruction of US imperialism and the achievement of a classless world: world communism."..."-Berger, Dan (2006). Outlaws of America: The Weather Underground and the Politics of Solidarity. AK Press, 95.
http://en.wikipedia.org/wiki/Weatherman_Underground#cite_ref-Berger_0-0
Outlaws of America: The Weather Underground and the Politics of Solidarity (Paperback) by Dan Berger
http://www.amazon.com/Outlaws-America-Underground-Politics-Solidarity/dp/1904859410
_______________________________________________________
From HumanEvents.com...
April 29, 2008
"Obama did not address the [Rev Wright] issue squarely until forced to justify his relationship with Wright, his pastor at Trinity United Church in Chicago, for over 20 years. In a speech several weeks ago, Obama denounced Wright's comments but justified them by saying that America didn't really know Wright. Obama's connection to the pastor runs deep, as he titled his second book, "The Audacity of Hope," after a sermon Wright gave. Wright also baptized Obama and his children as well as performing the marriage ceremony of Michelle and Barack Obama."
http://www.humanevents.com/article.php?id=26261
_______________________________________________________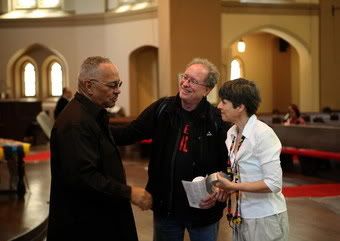 Rev. Dr. Jeremiah Wright and Dr. William Ayers
are greeted by Rebekah Levin with the Committee
for a Just Peace in Israel and Palestine.
(Chuck Berman/Chicago Tribune / May 17, 2009)
http://www.chicagotribune.com/news/local/chi-ayers_wrightmay18,0,6689521.story
_______________________________________________________
From the New York Times, August 24, 2003
"they [the Weather Underground] employed revolutionary jargon, advocated armed struggle and black liberation and began bombing buildings, taking responsibility for at least 20 attacks. Estimates of their number ranged at times from several dozen to several hundred."
Article: Quieter Lives for 60's Militants, but Intensity of Beliefs Hasn't Faded
http://query.nytimes.com/gst/fullpage.html?res=9F04E4DE1539F937A1575BC0A9659C8B63&sec=&spon=&pagewanted=2

---
TOPICS:
KEYWORDS: bernardinedohrn; billayers; blackliberation; catholic; communist; farrakhan; jeremiahwright; liberationtheology; marx; michelleobama; obama; popebenedict; reverendwright; weatherunderground
---
Navigation: use the links below to view more comments.
first 1-20, 21-25 next last
---
---
---
---
---
---
---
---
---
---
---
---
---
---
---
---
---
---
---
---
---
Navigation: use the links below to view more comments.
first 1-20, 21-25 next last
---
---