---
To: Daffynition
Self-respecting Scouts and Scout Leaders ought to feel free to ignore this foolish guidance.
A Boy Scout without a pocket-knife = an Unprepared Scout.
2
posted on
09/07/2009 6:33:06 AM PDT
by
DieHard the Hunter
(Is mise an ceann-cinnidh. Cha ghéill mi do dhuine. Fàg am bealach.)
---
To: DieHard the Hunter
I couldn't agree more. Next the uniform will require mantyhose.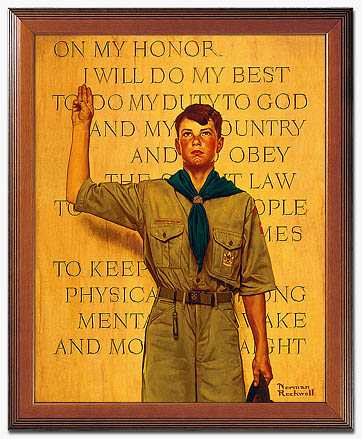 10
posted on
09/07/2009 6:42:36 AM PDT
by
Daffynition
(A conclusion is the place where you got tired of thinking.)
---
To: DieHard the Hunter
Your advice would be a serious mistake in Britain as such action could carry a short stay in jail (a couple of years ago, a writer for a British magazine returned from a year in Italy and wrote of his predicament at Customs). If it wasn't so sad, it would actually be funny; despite a stellar life (not even a traffic ticket), he now has a permanent record for carrying a tiny Swiss Army knife (the little Executive model). Welcome to the Nanny State.
In 2002, I brought a Kershaw Leek one-finger opening knife into Britain and received numerous friendly warnings not to display it. However, I believed it saved my life, or at least my wallet, one night in the city of Bath. As I was walking back to my B&B after dinner around 10 PM, two tall punks started following me down a poorly lighted street. I flicked my knife out and actually ran (I was 50 at the time) towards them. The last time I saw that much surprise in anyone's face was when I put a shotgun to the head of a kid in my garage (that's another story).
14
posted on
09/07/2009 6:51:23 AM PDT
by
12Gauge687
(Extremism in the defense of liberty is no vice)
---
To: DieHard the Hunter
My first Class son and my Webelo son each got a very large official Boy Scout locking blade pocketknife for Christmas, to add to their ever growing collection. They also received a shotgun.
40
posted on
09/07/2009 7:43:49 AM PDT
by
cyclotic
(Boy Scouts-Developing Leaders in a World of Followers.)
---
To: DieHard the Hunter
It is too bad the Scout leaders in the UK are afraid of their Scouts.
I was not a scout but I have carried a pocket knife since I was six. My dad carries one. My mom carries one.
A pocket knife is a useful tool.

53
posted on
09/07/2009 9:07:57 AM PDT
by
Harmless Teddy Bear
(I miss the competent fiscal policy and flag waving patriotism of the Carter Administration)
---
FreeRepublic.com is powered by software copyright 2000-2008 John Robinson