---
Rapper and Obama Supporting Pal Lil' Wayne Sports New Communist T-Shirt in Music Video
10-20-2009


Posted on 10/20/2009 8:33:36 AM PDT by My Favorite Headache

Wish I could say that this is nothing in the grand scheme of things...but these t-shirts have become quite the hot item as of the last 3 weeks with them being sold all over the net and e-bay. I had no idea why a few local kids were wearing such trash the other day when my family was shopping at Wal-Mart so sure enough I looked more into the fashion trend.

It is none other than Obama supporter and rap star Lil' Wayne with Jay Sean who is wearing it in the #1 video in the country on BET, VH1, and Much Music in Canada.

This is just one link to the many e-bay sales for them.

http://cgi.ebay.com/COMMUNIST-T-Shirt-WOMENS-lil-wayne-jay-sean-down-tee_W0QQitemZ130325707424QQcmdZViewItemQQssPageNameZRSS:B:SRCH:US:101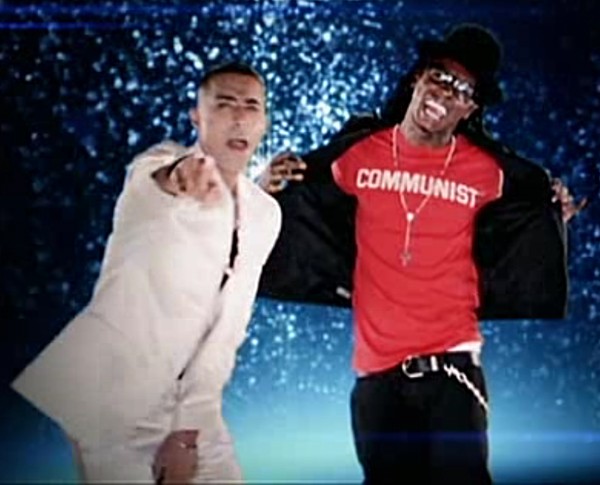 If you haven't heard or simply forgot...Obama went out of his way to cite Lil' Wayne as one of his favorites last summer.
From Time magazine:
http://swampland.blogs.time.com/2008/07/08/the_politics_of_lil_wayne/
"You are probably not that good a rapper. Maybe you are the next Lil' Wayne, but probably not, in which case you need to stay in school," Obama, D-Ill., told a cheering crowd, brought to a standing ovation at a town hall meeting in Powder Springs, Georgia.
The presumptive Democratic nominee was speaking about high school drop out rates and the need for people to be committed to working hard in school so they can get a job after school.
Obama said he knows some young men think they can't find a job unless they are a really good basketball player.
"Which most of you brothas are not," Obama, who played basketball in high school, a sport he continues to play to this day, said jokingly. "I know you think you are, but you're not. You are over-rated in your own mind. You will not play in the NBA."
http://swampland.blogs.time.com/2008/07/08/obama_says_this_hope_stuff_onl/

---
TOPICS: Music/Entertainment; TV/Movies
KEYWORDS: communist; lilwayne; obama; rapper
---
---
---
---
---
---
---
---
---
---
---
---
---
---
---
---
---
---
---
---