---
To: LucyT; rxsid; rocco55; thouworm; GOPJ; Beckwith; Fred Nerks; null and void; stockpirate; ...
wow did you see this??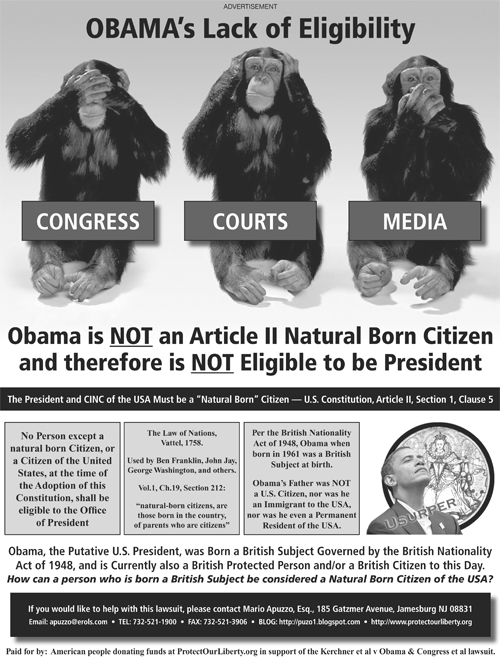 http://www.sonorannews.com/archives/2009/091202/FrntPgObamaCase.html

56
posted on
12/02/2009 9:39:41 PM PST
by
bitt
(You can't make a weak man strong by making a strong man weak (Abraham Lincoln))
---
To: bitt
64
posted on
12/03/2009 10:31:53 AM PST
by
rxsid
(HOW CAN A NATURAL BORN CITIZEN'S STATUS BE "GOVERNED" BY GREAT BRITAIN? - Leo Donofrio (2009))
---
To: bitt; LucyT; rocco55; thouworm; GOPJ; Beckwith; Fred Nerks; null and void; stockpirate; BP2; ...
Check this out...
"KERCHNER ADVERTORIAL SPARKS VICIOUS RACE-POLITICS ACTION
SIMULTANEOUS HACKER-ATTACK OF THE POST & EMAIL BY OBAMA SUPPORTER
(Dec. 3, 200) — As editor of The Post & Email I can now publicly confirm that our website was hacked 3 times yesterday by an Obama supporter, in conjunction with a simultaneous political attack on the Washington Times Newspaper, in Washington, D.C..
The motive for the attack was identical: The advertorial placed by Commander Charles F. Kerchner, Jr., U.S. Navy, Retired in the Washington Times, entitled " Obama's Lack of Eligibility."
Yesterday morning, a computer user came to The Post & Email's site, having read a copy of our article "Mega Media" at Oil For Immigration. Our site was then attacked by a hacker using a server at the Department of Welfare for the Commonwealth of Pennsylvania, in Harrisburg, Pennsylvania.
...
It turns out that this same hacker complained in an email elsewhere on the web, regarding the Advertorial. The Post & Email is in possession of his email as it provides proof of a material chain of evidence to the concerted political action in Washington, D.C. the same day.
Simultaneously there was a Coordinated Political Attack on The Washington Times
Our confidential sources in Washington, D.C., have divulged to us that during the attack on our website, a political uproar was in progress in the Capitol., of the like not see in decades. It was directed by the White House through the political activists in the Black Community. These activists urged advertisers at The Washington Times to pull Kerchner's ad, complaining to the sales department, that the advertorial was "racist." Leading figures in the Media throughout the Capitol also angrily complained to the paper's editorial board.
The uproar was so organized as to produce maximum result on the same day that The Washington Times was to announce a major staff reduction: more than 370+ workers to be laid off. The paper also announced that it was undertaking a political lobbying effort in the capitol, by means of a program to distribute free newspapers to politicians in the city.
The concerted political attack on the Washington Times has all the markings of Alinsky style tactics and of race-card politics, the resident expert of which, in the District of Columbia, is undoubtedly Barack Hussein Obama."
http://www.thepostemail.com/2009/12/03/white-house-orders-attack-on-washington-times/

79
posted on
12/03/2009 1:40:06 PM PST
by
rxsid
(HOW CAN A NATURAL BORN CITIZEN'S STATUS BE "GOVERNED" BY GREAT BRITAIN? - Leo Donofrio (2009))
---
FreeRepublic.com is powered by software copyright 2000-2008 John Robinson