---
To: jaycee
HAPPY
BIRTHDAY
JC!!!!
---
To: yorkie
Oh how sweet is that dog! And he looks more like my first one, Dolly! And look at that gorgeous cake! Bet you made that....did you take out the calories?? Thanks so much! I've had several birthday phone calls. Charlie called before I got out of bed and since I don't TALK that early, I called him back later....LOL!
19
posted on
04/01/2010 8:04:03 AM PDT
by
jaycee
(("His eye is on the sparrow and I know He watches me."))
---
To: yorkie
WHAT did you do for your birthday???
LUB
TOMORROW'S THE DAY. WHEEEE.
24
posted on
04/01/2010 8:32:11 AM PDT
by
Quix
(BLOKES who got us where we R: http://www.freerepublic.com/focus/religion/2130557/posts?page=81#81)
---
To: jaycee
(((((((Hugs)))))))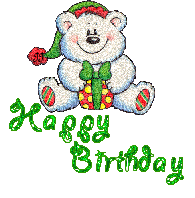 100
posted on
04/01/2010 3:49:08 PM PDT
by
Kitty Mittens
(Let Thy Mercy, O LORD, be upon us, According as we Hope in Thee. Ps.33:22)
---
To: yorkie; jaycee; All
Dang it! I forgot another birthday. :( (Or is this April Fools?) :) What to do, what to do. Bake a cake or call the florist or read on and hope it's an April Fool joke. :)
---
FreeRepublic.com is powered by software copyright 2000-2008 John Robinson