---
NORSE HOLD ROEROS AND TYNSET (5/2/40)
Microfiche-New York Times archives, Cabrillo College Library | 5/2/40 | Otto D. Tolischus, Harold Denny


Posted on 05/02/2010 6:14:12 AM PDT by Homer_J_Simpson

1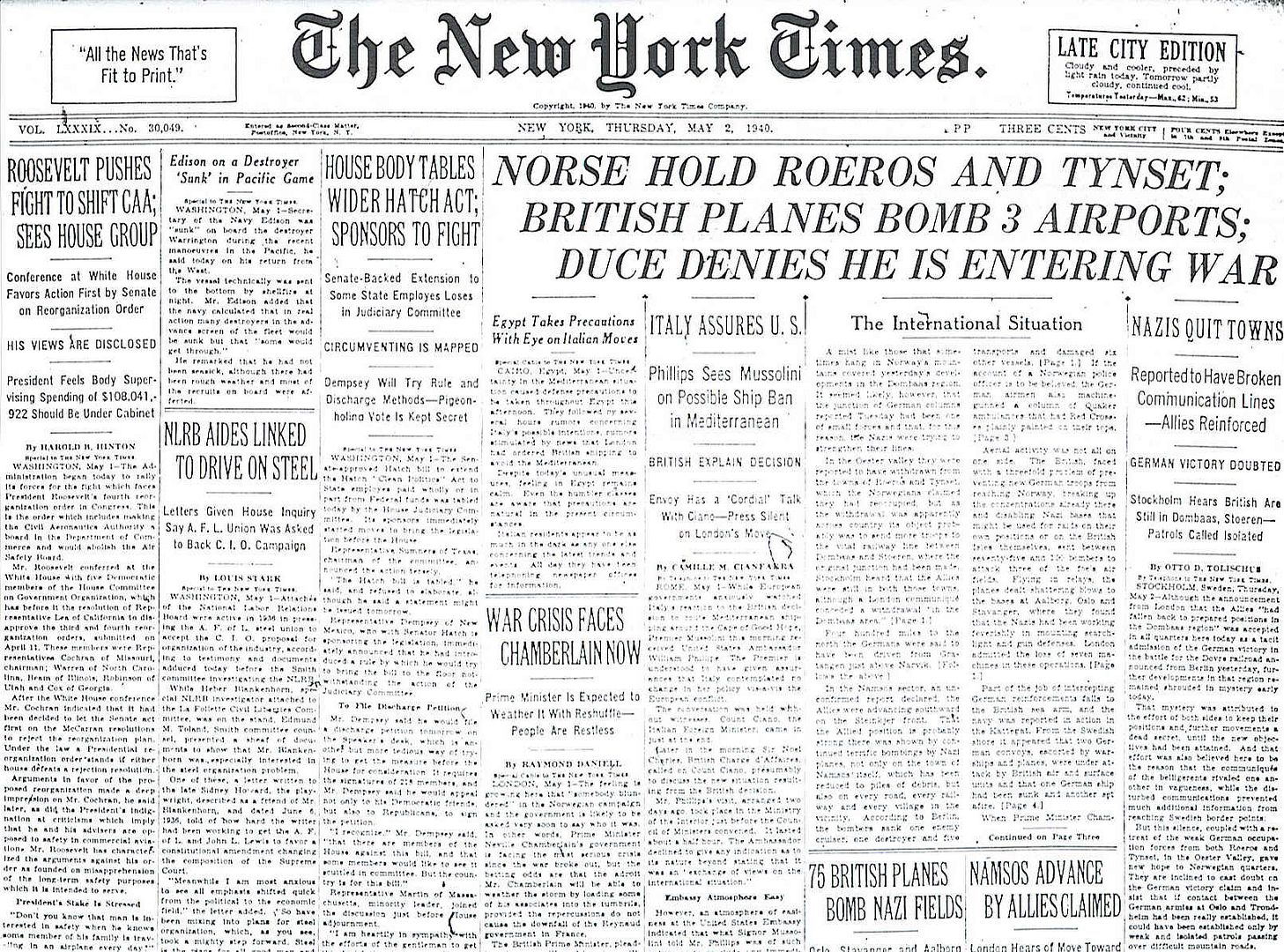 2
3
4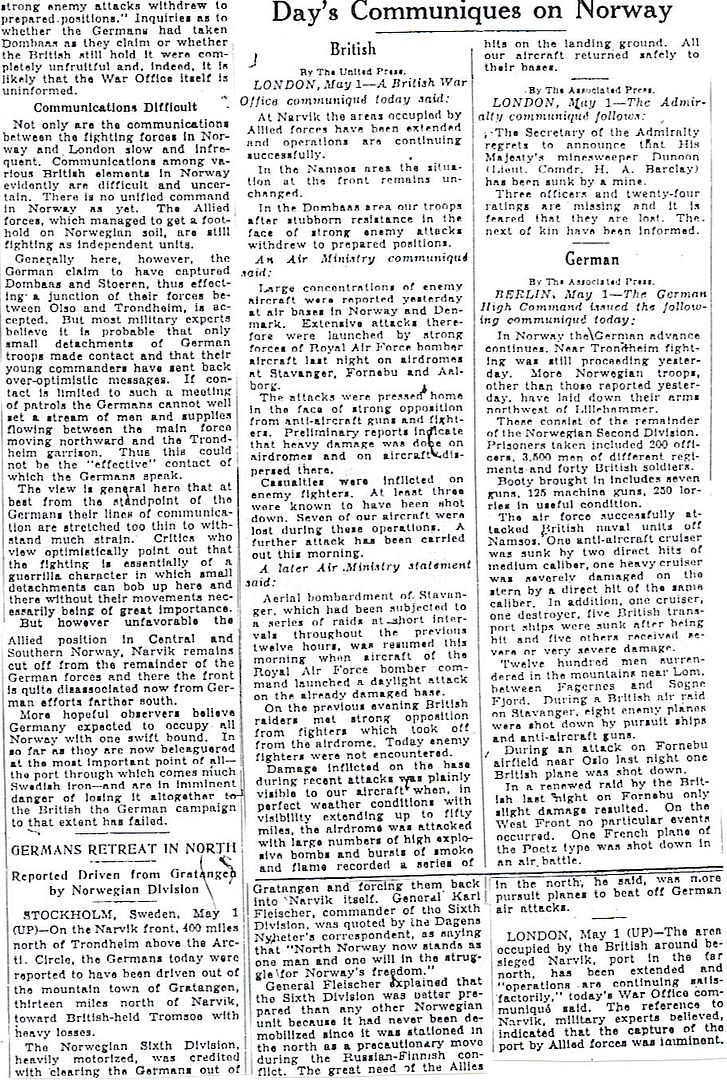 5
---
TOPICS: History
KEYWORDS: milhist; realtime; worldwarii
---
Navigation: use the links below to view more comments.
first previous 1-20, 21-23 last
---
To: PAR35
PAR35:
"Yes. Words have meaning. Some folks can make a living making sure that the correct word is used."
There seem to be many people -- many of them French, no doubt -- who can't understand the difference between the word "annexed" and what Germans did to Alsace-Loraine during W.W.II.
Possibly you could explain it?

---
To: BroJoeK
After the war, East Prussia got annexed. Saxony was occupied, with the shots called from Berlin. You can bet the locals could tell the difference.
Or to use an example closer to home. After World War I, the German territories of Alsace and Lorraine were annexed by the French. The Saar was occupied and administered by Paris.
Annexation is a legal act, and it has an objective meaning.
If there was organic union between Alsace & Lorraine, and the Greater German Reich, how many seats did each province get in the Reichstag?
---
To: PAR35; CougarGA7; Homer_J_Simpson
PAR35:
"If there was organic union between Alsace & Lorraine, and the Greater German Reich, how many seats did each province get in the Reichstag?"
Good point.
Obviously we are debating semantics -- what exactly does the word "annexation" mean?
If Nazi documents did not use the word "annexed" regarding Alsace-Lorraine, was that territory in reality still annexed, or should other words be used to describe its status?
Well, let me propose a theory -- and this ties back into the previous discussion with CougarGA7 over:
"when did WWII start?", indeed,
"was there really a Second World War?"
In 1870 France declared war (more than once) on Prussia (soon to be Germany), was defeated and so lost Alsace-Lorraine, annexed by the new Germany.
Curiously, I see nowhere that Germans had ever declared war on France.

In 1914, Germany declared war on France (along with Russia & Belgium), was defeated and so lost Alsace-Lorraine back to France.
Curiously, neither France nor Russia & Belgium had ever declared war on Germany.

The end of the Great War -- the First World War -- was legally marked by the Versailles Treaty of 1919.
This treaty restored Alsace-Lorraine to France.

But Germans never accepted the Versailles Treaty as legitimate.


Germans had fully expected that President Wilson's "Fourteen Points" meant Germany could keep most or all the territories it had conquered through 1918, especially in Poland, Russia and France.

Once German General Erich Ludendorf realized this was not to be the case, he immediately recommend the war be resumed.

But by then it was too late -- Germans were starving and the nation was in danger of collapse. Communists were rioting in the streets. Revolution ala Russia was in the air.
Ludendorf was fired.

So Germany signed the Versailles Treaty, but those responsible were later assassinated.
General Ludendorff joined with the new National Socialist Workers' Party and its firebrand leader, young Adolf Hitler, advocating renouncing Versailles.

Please stay with me on this -- am keeping it as simple as possible...

When Hitler came to power, he DID renounce Versailles.
What does that mean?

Legally, the First World War resumes, just where it left off.

Germany's 1914 Declaration of War against France is reinstated.

Germany considers the pre-WWI legal status of Alsace-Lorraine restored -- in other words: with the Treaty renounced, Alsace-Lorraine is already part of Germany.

In other words, one reason Hitler did not formally annex Alsace-Lorraine in 1940 was because, legally, he considered there was no need to do so.

This also explains why, until Declaring War on the United States in December 1941, Hitler had declared war on nobody!
No need to -- since with Versailles revoked, the previous state of war was already restored.
So, was Alsace-Lorraine annexed by Germany in 1940?
Yes because, when you look up the definition of the word "annex" it does not necessarily require a formal legal document:
Normal dictionary definitions:

And, legal definitions:
2.The point in time when an addition or addendum becomes part of the thing to which it attached.

3.The formal act of a political unit, such as a nation, state, or municipality, annexing land to its' domain.
---
Navigation: use the links below to view more comments.
first previous 1-20, 21-23 last
---
---
FreeRepublic.com is powered by software copyright 2000-2008 John Robinson