---
Motorola Droid X: Thoroughly Reviewed ( AnandTech goes deep under the cover for the details )
Anandtech ^ | 7/20/2010 4:27:00 PM | Brian Klug & Anand Lal Shimpi


Posted on 07/21/2010 12:22:30 PM PDT by Ernest_at_the_Beach

You have to hand it to Motorola; as little as a year ago their future looked bleak. Android was still in its infancy and lacking polish, mainstream devices running it were few, and there weren't public or visible signs of any forthcoming devices which would challenge the dominance of BlackBerry or iOS, especially from Motorola.

A few months later, they launched the Motorola Droid, and a few months after the floodgates opened up - out has poured a steady stream of relatively polished devices running Android 2.x.

It's been breakneck almost, with new flagships every 3 months on average - the latest is Motorola's Droid X on Verizon - henceforth just 'X.'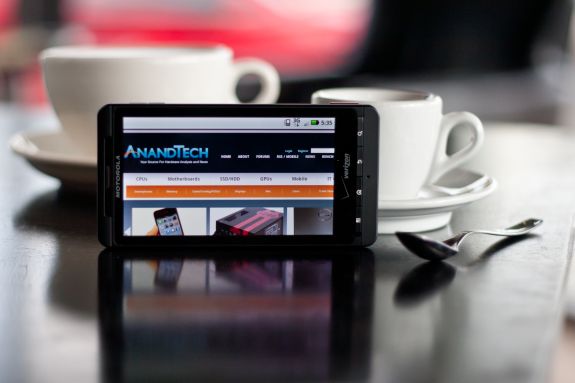 You also have to hand it to Verizon for getting its act together. Previously, they were infamous for crippling device hardware and OSes - the Touch Pro notoriously lacked an entire row of keys, and half the RAM. Their smartphone lineup also used to consist entirely of BlackBerries and Windows Mobile devices. That's all changed.

Since the first Motorola Droid, they've been probably the single most vocal proponent of Android, embracing and billing their lineup of "Droids" as serious iPhone alternatives. The unique combination of being the largest carrier and the largest 3G footprint (and the perception of having above average coverage) has resulted in massive growth of the Android platform. That's definitely a turnaround for two giants.

Eight months after launch, the Motorola Droid is now a relatively old piece of kit. It's amazing how fast the market is moving - the fact that an 8 month old handset is now obsolete is a testament to just how breakneck this pace is.



(Excerpt) Read more at anandtech.com ...
---
TOPICS: Business/Economy; Computers/Internet; Music/Entertainment; TV/Movies
KEYWORDS: cellphones; droid; droidx; hitech; mobiledevices; smartphone; telecommunications; telephony
---
Navigation: use the links below to view more comments.
first 1-20, 21-40, 41-46 next last
---
---
---
---
---
---
---
---
---
---
---
---
---
---
---
---
---
---
---
---
---
Navigation: use the links below to view more comments.
first 1-20, 21-40, 41-46 next last
---
---