---
To: One Name
"...get an upper kit already headspaced for 5.56 NATO as opposed to .223...."
I own 2 AR-15s, one of which I built myself, but I still do not understand the difference between .223 and 5.56 NATO. I thought they were, for our purposes, exactly the same.

---
To: I Buried My Guns
You can shoot .223 in your NATO chambered rifle, but don't try shooting 5.56 in a rifle that is chambered strictly for .223 ammo. The NATO dimensions are a little more generous.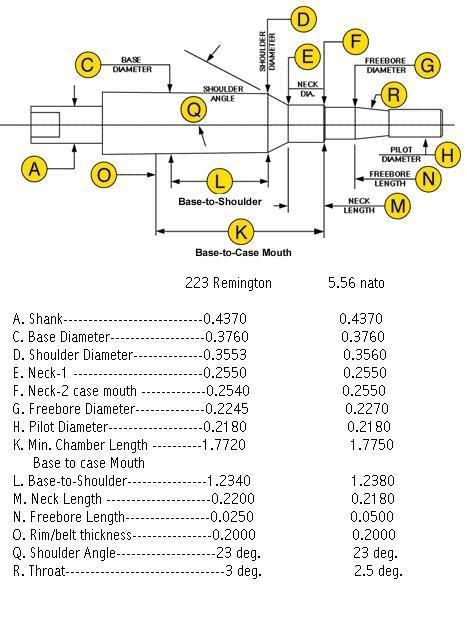 ( ignore 'N' - I'm pretty sure they're the same )

46
posted on
10/21/2010 6:21:49 AM PDT
by
smokingfrog
(Because you don't live near a bakery doesn't mean you have to go without cheesecake.)
---
To: I Buried My Guns
they *should* be...but there are rare occassions of the hotter .223 being too much for the 5.56 innards...
what ive been told anyways...

49
posted on
10/21/2010 6:37:02 AM PDT
by
Gilbo_3
(Gov is not reason; not eloquent; its force.Like fire,a dangerous servant & master. George Washington)
---
To: I Buried My Guns
See here: http://www.thegunzone.com/556v223.html
Short version: If your upper is stamped "5.56," you can shoot both. If it's stamped ".223," you risk catastrophic failure due to higher chamber pressure if you shoot 5.56 with it, esp. if it's an older rifle.
50
posted on
10/21/2010 6:41:22 AM PDT
by
piytar
(There is evil. There is no such thing as moderate evil. Never forget.)
---
To: I Buried My Guns
Went to bed last night so maybe this got answered already- 5.56 Nato has a different "lede" or I would say freebore beyond the tip of the chambered round; a longer one which allows barrel pressures around 70,000 copper units. .223 Remington is smaller, rated for around 45-50 cup, don't recall exactly. You can overpressure a .223 chamber with a NATO round, but not vice versa. You give up a slight amount of accuracy shooting .223 thru a 5.56 barrel. External cartridge dimensions are the same- I think NATO is thicker in the base internally.
Most commercial semi-autos are chambered 5.56 ( Mini-14, etc.) Some bolt actions are not so you have to be careful what you put thru them, especially overall cartridge length if reloading.
Because there are alot of AR shooters after super-accuracy (varminters, especially)they offer the .223 chambering.
---
FreeRepublic.com is powered by software copyright 2000-2008 John Robinson