---
Vanity: Needing help with an election slogan
just me needing help
Posted on 02/17/2011 12:26:42 PM PST by getmeouttaPalmBeachCounty_FL
Dear Freepers,
My daughter is planning to run for student council after spring break. This will be her third school election. She's been a member of her student council during her 8th and 9th grade years, and would like to take this on during the next school year in 10th grade.
Where she's at is here...she is wanting to do a giant poster of a word cloud using words similar to this: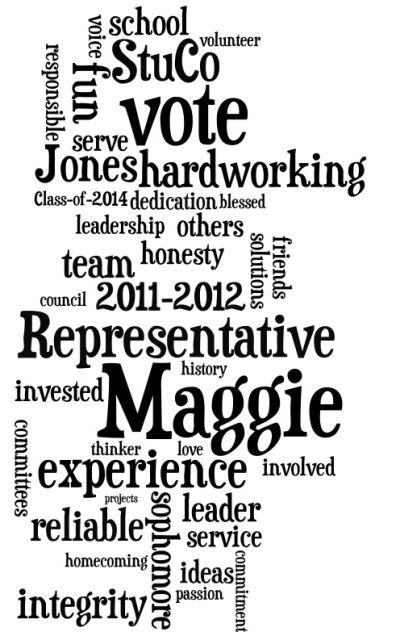 She has to come up with a slogan, and place it somewhere on her poster. She then needs to tie her slogan into her speech. She and I have come up with some ideas for the speech - Touching upon how she hears every day on the local news about campaign promises that are not met; lack of integrity in people in government who serve. Since she loves history classes and listening to political radio like Mark Levin ([[[[patting self on back]]]]), she feels she challenges herself to walk the walk...oh, and especially since her daddy just retired from the Marines.
I should also mention she attends a Christian school, so she will likely include 1 John 3:18 NIV, "Dear children, let us not love with words or speech but with actions and in truth." She is a really good kid, too. She's seen as a leader in the school, and she's just a Freshman. Straight As, full Honors schedule, involved, kind, polite, athlete, volunteers for teachers, welcomes new students, involved in nearly all school service projects and was recently elected as a leader of the student service organization (the only Freshman) and she is in charge of the website for the segment of our school capital campaign which is run by student leaders (identified by the principal).
She also likes this verse:
"He taught me and said, 'Lay hold of my words with all your heart; keep my commands and you will live.'" Proverbs 4:4 NIV
I know FReepers are creative and bright and come here with tons of varying gifts. If you can offer some advice, tips and ideas, I will pass them on to my daughter. If you are drawing a blank and have read this far, will you at least give this a bump for more exposure? I'd appreciate it very much.
Thank you. You guys are awesome :)

---
TOPICS: Chit/Chat; Education; Miscellaneous; Reference
KEYWORDS: council; election; slogan; student
---
Navigation: use the links below to view more comments.
first 1-20, 21-35 next last
---
---
---
---
---
---
---
---
---
---
---
---
---
---
---
---
---
---
---
---
---
Navigation: use the links below to view more comments.
first 1-20, 21-35 next last
---
---