---
To: wendy1946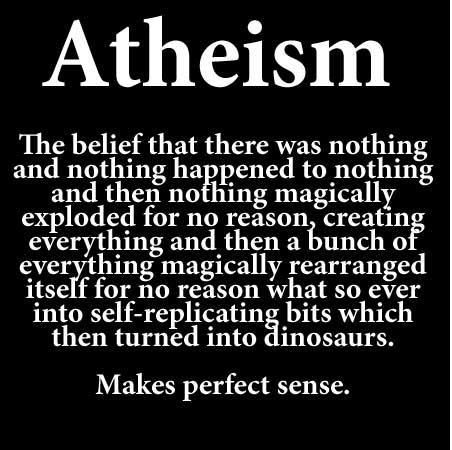 2
posted on
03/07/2011 1:47:12 PM PST
by
DeoVindiceSicSemperTyrannis
(Want to make $$$? It's easy! Use FR as a platform to pimp your blog!!!)
---
To: DeoVindiceSicSemperTyrannis
Sounds like you ought to be on my little ping list...
The thing which is really ridiculous is that a certain number of Christians apparently including at least one pope, no sooner hear about the "big bang" idea then they think to themselves "Gee, that's GREAT! Another creation story, just a little matter of about (17,000,000,000 - 6000) years difference from ours, we ought to be able to come up with some sort of a fudge factor!!"
The problem: Having all the mass of the universe collapsed to a point would be the mother of all black holes; nothing would ever bang its way out of that.
Likewise for a supposedly omniscient and omnipotent God to suddenly figure out it would be a cool thing to do to create a universe (6000 years ago or 17,000,000,000, doesn't matter) while the idea had never occurred to him previously, is basically idiotic. Big Bang is bad physics and bad theology rolled up into a package.
What the evidence seems to suggest is that the universe is basically eternal, like God, and that the creation stories we read in ancient literature refer to the creation of our own system and local environment, and not to the entire universe. Our LIVING world, at least in its present conformation, does in fact appear to be ballpark for some sort of a 6000 - 10000 year age; the planet viewed as a collection of rocks is older than that.

---
To: DeoVindiceSicSemperTyrannis
Every time one of my idiot friends(they are not all idiots, just a few)talks about the big bang and says all matter condensed into a spot the size of a dime and then exploded, I always ask them "Where did the matter come from?", all that dust that exploded after squeezing down to a dime sized spot, where did it originate from? What caused it to exist? They never have an answer but still insist that the big bang happened.
The big bang theory and the other theory about life coming from outer space and dropping onto earth, are merely attempts to dodge around the questions of how matter was formed originally and how life started from inert matter.

---
To: DeoVindiceSicSemperTyrannis
That is fantastic! Thanks
i copied it I hope you don't mind?

73
posted on
03/07/2011 7:04:55 PM PST
by
Steve Van Doorn
(*in my best Eric cartman voice* 'I love you guys')
---
FreeRepublic.com is powered by software copyright 2000-2008 John Robinson