---
THE OFFICIAL LAST FRIDAY EVER BEFORE DOOMSDAY SILLINESS THREAD
Posted on 05/20/2011 8:31:24 AM PDT by Lucky9teen
It's the end of the world as we know it. Apparently.

Harold Camping, the man behind the May 21, 2011, judgement day "campaign" is thoroughly convinced that the day marks the beginning of the end. Then again, he did get it wrong once before.

Their "Undeniable" Proof- (the Caravan reads "The Bible Guarantees It")
By Emily Cheever

I'm not going to lie to you guys but doing this research was less fun and more confusing. Confusing because most of the infallible proof that they had revolved around numbers. Numbers, it seems to me, that were just made up to prove fact. Essentially it's around the same logic as this:

My name has five letters.

There are four seasons.

5-4=1

1 is the purest number.

Therefore I am the second coming of Christ.

Alright, it might not be that crazy, but it's almost there. And keep your panties on people, I do not believe that I'm the second coming of Christ. Although I do think that turning water into wine would be awesome. Would it be a fine full bodied Merlot or a crisp Riesling?

Alright, so the actual numbers. Keep in mind the numbers that they start off with are all kind of made up- they argue that they got these numbers because God wanted them to receive them around now. 7! Oh sorry, did I startle you? God was just sending me a number.

According to the ambassadors, they have discovered that the great flood that Noah had to deal with was 4990 B.C. In the Bible it also said that God told Noah that he had seven days before the great flood.

Elsewhere in the Bible (2 Peter 3:8) one day to God equals 7000 years to us. Which was really the whole defense of the Scopes trial and led to some sweet monologin' in Inherit the Wind.

OK, so 7000 years after 4990 B.C. is 2011. Then if you add in the leap years and what not it rounds up to May 21st, 2011. Or something.

So their other proof is going up from the exact date of the crucifixtion, which according to them is April 1st, 33 A.D. Was that the first April Fools Day joke? 'Cause in that case, April Fools should technically be April 3rd, because everyone was all like "Christ is dead!" and then He was all like "No I ain't B*tches! April Fools!" I don't care if you just found that blasphemous. Jesus Christ playing pranks is hilarious. "You're blind! April Fools! Now you can see! LOLz, guys!"

Back to the numbers. After April 1st, 33 A.D. there are 722,500 days until May 21st. Why is the number 722,500 important? It isn't! Yay arbitration!

To the folks at Family Radio, the number 722,500 is represented by the equation 5x10x17x5x10x17, which are symbolic numbers. 5 means atonement, 10 means completeness and 17 means heaven. And then you do that twice? Hey, why not!

Then there's the theory that between April 1st, 33 A.D. and April 1st 2011 is 1,978 years. Then you multiply that by the number of days in a solar year (365.2422 days) and then add 51 days (because that's how many days are between April 1st and May 21st) and you get 722,500. INDISPUTABLE EVIDENCE, PEOPLE!

So anyway, that's the proof that the Bible tells you. In any case, there's still a chance we're all doomed on Saturday (or at least 2012 for that matter - it's totally going to happen). So there's only one question left to ask.

What would you listen to as humanity came to an end? Hard rock? Classical? Something on the lighter side?

Here's a list of ideas (list yours below):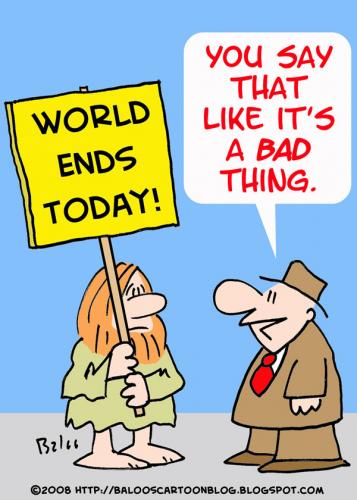 1. Tchaikovsky, 1812 Overture (Finale)

2. R.E.M. - It's The End Of The World

3. Paula Cole - I Don't Want To Wait (Dawson's Creek Opening Titles)

4. Europe - The Final Countdown

5. Nick Cave & The Bad Seeds - Death Is Not The End

6. Aerosmith - I Don't Wanna Miss A Thing (From Armageddon)

7. Rolling Stones - Gimme Shelter


8. Metallica - Four Horsemen

9. The Doors - The End

10. Van Halen - Runnin' With The Devil

11. AC/DC- Highway To Hell Music

12. Skeeter Davis - The End Of The World

13. U2 - Until The End Of The World


14. Muse - Apocalypse Please

15. Elvis Costello - Waiting For The End Of The World

16. Morrissey - Everyday Is Like Sunday

17. Talking Heads - Nothin' But Flowers

18. Bright Eyes - Four Winds

19. Prince - 1999

20. The Clash - London Calling

21. Britney Spears - Till The World Ends








---

These four older ladies who lived in Yugoslavia always sat outside together near the church and chatted about when they were younger. One month ago they pooled their money together and bought a laptop.




Never having been, but having heard all about Florida, they just happened to click on St. Augustine, FL. They read about the "Fountain of Youth" claimed by the Spaniards when they arrived there. They collected up all they had left and sent for four bottles of the water. As soon as it arrived, they drank as directed.

The rest of this story will make you a believer, because here they are today...................


No......This is TRUE! Really! Would We lie to you?

We have a limited supply of this water
Available at an incredibly low price of just $1,499.95 a bottle.
Seriously ...

HURRY BEFORE THE INVENTORY RUNS OUT!!!! Make checks payable to:

Democratic National Committee

---
Click here for the Doomsday Code
---
TOPICS: Humor
KEYWORDS: doomsday; friday; may21; ofst
---
Navigation: use the links below to view more comments.
first 1-20, 21-40, 41-60, 61-80 ... 141-156 next last
---
---
---
---
---
---
---
---
---
---
---
---
---
---
---
---
---
---
---
---
---
Navigation: use the links below to view more comments.
first 1-20, 21-40, 41-60, 61-80 ... 141-156 next last
---
---