---
To: raccoonradio
For a second Boston team. I'd put them smack in the middle of MetroWest. The old Route 30 Mall area in Framingham would be perfect.
---
To: buccaneer81
Hmm..but I would count on a "no" vote from Red Sox ownership on such an idea.
(Below: Where Braves Field/Boston used to be, now used among other things for Nickerson Field/B.U.)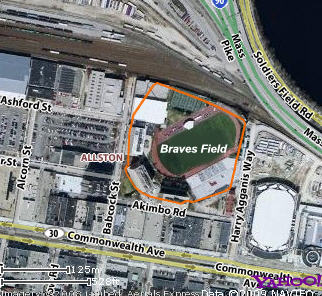 ---
To: buccaneer81
A second team in Boston? Why did the Boston Braves move out of Boston in the first place? Has Boston grown significantly since then? I thought they were the "other" team in Boston, and moved due to terrible attendance.
It seems that not too many big markets can support two teams very well.
---
FreeRepublic.com is powered by software copyright 2000-2008 John Robinson