---
Gun Safety Gone Wong (funny youtube vid)
Youtube.com ^ | Jun 10, 2011 | ratedrr


Posted on 06/17/2011 8:54:26 AM PDT by nerdwithagun

Click on the link

---
TOPICS: Humor; Weird Stuff
KEYWORDS: gunsafety; satire

A very funny vid of poor gun handling. To those who might find it in bad taste, I think they really are just trying to make a point on how not to handle guns while making vids for youtube.

Best part "No duel wield in the kitchen!"

---
To: nerdwithagun; 50mm; shibumi; Salamander; Eaker; Mobile Vulgus
Handgun Safety FAIL Award:
Warner Todd Huston, AKA Mobile Vulgus!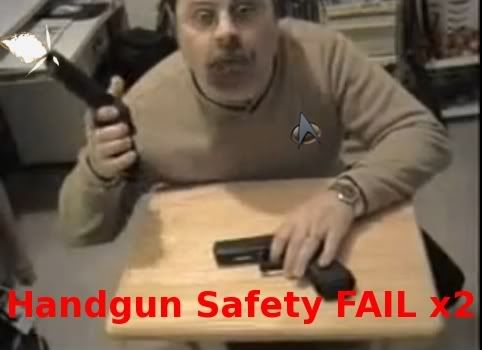 ---
To: nerdwithagun
---
To: nerdwithagun
This one, "Glock Fawty" (http://www.youtube.com/watch?v=zDQhaoocZPw&feature=related) is much, much better. (former) DEA/LEO called Lee Paige telling some students, "This is a Glock Fawty. ... I'm the only one in this room professional enough, that I know of, to carry this Glock Fawty." BANG!
Yours is like something from MAD TV.
4
posted on
06/17/2011 11:16:25 AM PDT
by
flowerplough
(Bammy: It frustrates me when people talk about govemrnment jobs as if somehow those are worth less.)
---
To: flowerplough
Thats why I liked this one. Sketches amuse me, accidents not so much. Even if it is a cop who is probably a gun grabber.
5
posted on
06/17/2011 11:36:43 AM PDT
by
nerdwithagun
(I'd rather go gun to gun then knife to knife.)
---
FreeRepublic.com is powered by software copyright 2000-2008 John Robinson