---
(-:(-:(-:THE OFFICIAL FRIDAY SILLINESS THREAD:-):-):-)
1/13/12 | Lucky9teen


Posted on 01/13/2012 4:55:13 AM PST by Lucky9teen
Take your pick of what to celebrate today.....
---
Blame Someone Else Day
When : The first Friday the 13th of the year
What a great time you can have on this day. Imagine all the problems, errors, and mistakes you could heap on someone else today. On this day you don't have to take responsibility or blame for any faux pas on your part. On the downside, this day comes as a double edged sword. While you are busy putting the blame elsewhere, someone might just be putting the blame on you!
So.......if ther is somethin wrong whif the spellin of this artickle, it's not my fallt.....its' yours.
Blame Someone Else Day could just be your day. But, watch out..... any blame you place today, can come back to bite you tomorrow. After all...what comes around goes around.
---
Friday the 13th
When : Occurs one to three times a year, when the 13th falls on a Friday
2012: January, April, July
2013: September, December
2014: June
2015: February, March, November
Are you superstitious? Then, Friday the 13th is a day you may look forward to with fear! Friday the 13th, is an unlucky day, a day when bad things can happen. Whatever you do, don't walk under a ladder, and don't let a black cat cross your path on this day.
Throughout most of recorded history, the number 13 has been seen as an unlucky number. If you live in fear of the number 13, you suffer from Triskaidekaphobia. More phobias of interest.
Historically, and perhaps a bit oddly in today's world, Friday has been viewed as an unlucky day of the week. We find this hard to fathom. After all, Friday is TGIF!! However, in days gone by, when you put the unlucky day of Friday, together with the unlucky #13, many people believe only bad things can happen.
Interestingly, there is a sizable number of optimists, who embrace Friday the 13th and the number 13. They shrug off the superstition and go buy lottery tickets with the number 13 in it.
For many who never gave it a thought, Jason in the movie "Friday, the 13th" (1980) made believers in the fearfulness of this day.
Friday the 13th Trivia:
Many buildings and skyscrapers do not have a 13th floor.

Many people will not allow 13 people at the table. If there is exactly 13 people present, a second table is set up.

Skippers would not go out to sea with a crew of 12. Including the captain, that made 13 people.

Ancient Mayans of Central America were the most advanced culture in all of the Americas. They considered the number 13 sacred.
Like any other special or wacky day, we encourage you to fully embrace the day and have fun with it. But, don't cower in your room in fear of this day. You'd miss all of the fun and excitement!
Origin of Friday the 13th:
In biblical references, it is believed that Cain killed Abel on Friday the 13th. We are not sure how this was determined, as calendars were unlikely to have been in existence back then.
We do know with certainty, the ancient Babylonian Code of Hammurah omitted the #13 in it's list of laws. Written in 1,700 B.C., it suggests ancient Babylonians considered the #13 to be unlucky.
---
International Skeptics Day
When : January 13th, or October 13th or first Friday the 13th of the year
International Skeptics Day is the perfect day for you...the "doubting Thomas".
Perhaps the earth isn't really round!? Maybe, the sky isn't truly blue!? Does he (she) really love me!? ........These are the words and questions of the classical skeptic.
By definition, a skeptic is a person who questions or doubts facts and theories. He, or she, is a mis-believer. A skeptic does not accept the "Given". If you are inclined to doubt things that you see or hear, then International Skeptics Day is for you.
If you practice a little, I'm sure we can make a good skeptic out of you. Go ahead, give it a try. And, what better day to practice skepticism, than International Skeptics Day?
Origin of International Skeptics Day:
We suspect that a real skeptic created this day. And, they did so by first creating doubt about the date to celebrate this special day. We found three dates: January 13th, October 13th, and the first Friday of the year. While Friday the 13th sounds intriguing, we have our doubts..........
We encourage you to celebrate skeptics and skeptical behavior on all three dates!
There is some reference to this as an "International" day. True, there are skeptics organizations all over the world. However, we found no documentation of this day being celebrated anywhere outside of the U.S.
Skeptical Organizations - In case you doubted their existence, there are skeptics groups all over the world.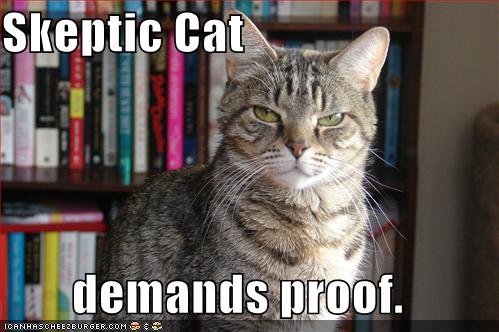 ---
Make Your Dream Come True Day
When : Always January 13th
Make Your Dream Come True Day gives you the opportunity to do something to realize your goals and dreams. Whatever your dreams are, they usually don't come true without some effort on your part. So, today is the perfect opportunity to do something about it.
On this day do something, anything, to move in the direction of achieving your dreams. Sure, sometimes it takes several steps to accomplish them. So view today as a time to get started on them. With a little effort, they will come true!
Favorite Song of Dreamers: Somewhere over the Rainbow and If I had a Million Dollars
---
TOPICS: Chit/Chat; Humor; Weird Stuff
KEYWORDS: 13th; friday; ofst; silliness
---
Navigation: use the links below to view more comments.
first 1-20, 21-40, 41-60, 61-80, 81-84 next last
---
---
---
---
---
---
---
---
---
---
---
---
---
---
---
---
---
---
---
---
---
Navigation: use the links below to view more comments.
first 1-20, 21-40, 41-60, 61-80, 81-84 next last
---
---