---
To: blam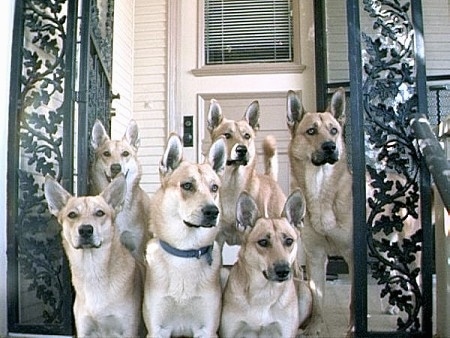 Dixie Dingo (Carolina Dog)

---
To: afraidfortherepublic
L

21
posted on
01/30/2012 8:21:44 PM PST
by
Lurker
(The avalanche has begun. The pebbles no longer have a vote.)
---
To: afraidfortherepublic
Thanks for the pictures of the Carolina Dogs, I had read about them in the past and I think they are very interesting. I tend toward mixed breeds just because I think they tend to be a more natural dog. I had asked myself the same question as is posed in the article what happened to the native dogs which lead me to the Carolina Dogs, I would love to own one but I think I may be on my last two dogs because I would hate to leave a good dog without an owner.
---
To: afraidfortherepublic; blam
I had a Carolina Dingo that I found on the Escatawpa River in Mississippi. Named him Blue because of his eyes. Great dog. Loved him.
Jackson Co. Sheriff knocked on my door one Saturday morning and asked me if I had a white German Shephard. I said no but that I had a white Dingo. He said that Blue was killing cats in the neighborhood. I said, "Not my dog." and whistled for him. Blue came running out from under the house and his upper lip was ripped wide open.
All I could think was ut-oh. The officer said that he was sorry but that he had to take the dog, He also said for me to not come to the pound to bail him out because he would not be allowed back in this neighborhood.
I asked him if he had the internet back at the pound and he said they did. I plead with him to look up Carolina Dingo and check out what he had just 'arrested'. He promised he would and that if it was what I said it was he would do everything in his power to get him a home. I sure hope that Blue survived.

---
FreeRepublic.com is powered by software copyright 2000-2008 John Robinson