---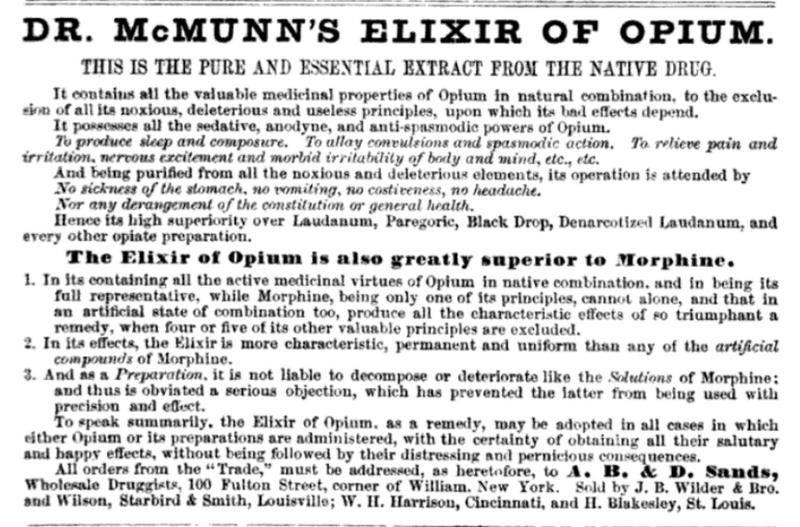 "The bottles once held opium based 'elixirs,' such as Dr. McMunn's Elixir of Opium ..."
5
posted on
02/19/2012 12:40:54 PM PST
by
DogByte6RER
("Loose lips sink ships")
---
To: FReepers
The funds raised in these FReepathons go to pay our current quarter expenses. But we're also going to try to replace some of our older servers and failing equipment this year so we're going to add a little extra to our FReepathon goals. John is estimating ten to fifteen thousand to do this and I'd like to get it all in place and working before the election cycle is fully heated up, so we'll try to bring in a little extra now, if we can, and the rest next quarter.

Jim Robinson
Click to Donate!
7
posted on
02/19/2012 12:43:56 PM PST
by
onyx
(SUPPORT FREE REPUBLIC, DONATE MONTHLY. If you want on Sarah Palin's Ping List, let me know.)
---
To: DogByte6RER
"25 cents for the morphine
15 cents for the beer
25 cents for the morphine
Gonna take me away from here"
Lyrics from Soldiers Joy from 1929 by the Georgia Fiddle Band, "Gid Tanner and the Skillet Lickers"
http://www.youtube.com/watch?v=_p952jSLddg
(Lyrics shown in the music video)
---
FreeRepublic.com is powered by software copyright 2000-2008 John Robinson