---
Weekly Gardening Thread (Soil Structure Part 1) Vol. 9, March 2, 2012
Friday, March 2, 2012 | JustaDumbBlonde


Posted on 03/02/2012 8:10:56 AM PST by JustaDumbBlonde

.
Good morning fellow gardeners! Here in NE Louisiana the weatherman claims we will reach 90 degrees today. He is really starting to get on my nerves ... doesn't he know that this is the first week of March, for pete's sake? He could shade the truth and tell us it's going to be 68, it's not like he's given bad information before, he does it at least 3 days a week. But, I digress.
First off this week, I want to share a link that fanfan, one of our gardening FRiends in Canada, sent to me earlier in the week. Three seed-sowing techniques is sure to bring valuable information to many of our gardening notebooks. Thanks, fanfan!
I'd also like to share a link to an article that shows how to build a hoop house/greenhouse that is simple, yet extremely well done and strong. In An Early Start the author provides easy to understand instructions, along with photos, for constructing a year-round environment for gardening at home. At least one of these will be built at my house this year ... I've got most of the components that I can scrap up from my piles of useful junk.
I've been threatening y'all with information on soil structure, and this week I want to begin with some basic information that we'll build on over the weeks. I hope to get everyone thinking about making the most of their yards and gardens by understanding the things we have to work with. Many of you already practice soil management and understand the importance of structure. I hope that you will join the discussion and offer all of us your some of your knowledge and expertise.
Simply put, soil structure is a term that describes the arrangement of the solid parts of the soil and of the space located between them. Basic structure depends on the soil type you are working with. (see previous thread on soil types.)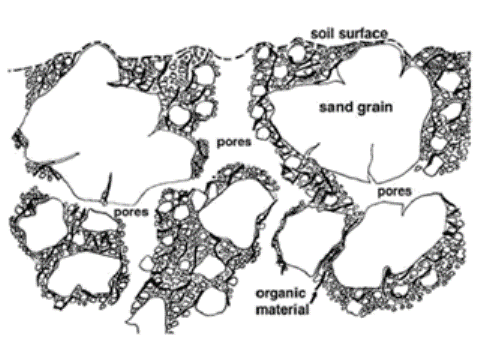 Soil structure is broken down into basic types, and is best determined by taking a sample of soil that has not been disturbed and looking closely at its shape. The shape of the soil will fall into one of the following categories: granular, crumb, blocky, platy, prismatic, columnar, single-grained, or massive. Note that massive soil is not pictured in the following diagram, but is basically unpermeable soil that is a solid block with no spaces.
Each individual unit of soil in the overall structure is called a ped. Only about 50% of structure is solid material. The remainder is spaces of air, organic matter, water and minerals. Other riches in the soil are worms, mites, nematodes, deep growing plant roots, bacteria and fungi. All of these things together are indications of soil quality, and developing a management strategy to enhance that quality is a sure way to hit pay dirt.
Why is information on structure important to you and your garden? Structure determines how well your plants will grow. Good structure reduces erosion, improves root penetration and access to soil moisture and nutrients. Even seedlings will emerge easier in well managed soil due to less surface crust. Water infiltrates good structure better and is more readily retained. Some soil health consultants claim that garden productivity can improve 2 to 3 fold with improved structure.
The best news is that anyone can improve the structure of their soil. In coming weeks I will be setting out ways to do just that. I decided to do this in several parts for a couple of reasons: structure is not something that you've going to attack and change in the span of a week; and if I presented all of it in one thread, eyes would glaze over and we would all fall asleep and miss planting season.
The Weekly Gardening Thread is a weekly gathering of folks that love soil, seeds and plants of all kinds. From complete newbies that are looking to start that first potted plant, to gardeners with some acreage, to Master Gardener level and beyond, we would love to hear from you.
This thread is non-political, although you will find that most here are conservative folks. No matter what, you won't be flamed and the only dumb question is the one that isn't asked.
It is impossible to hijack the Weekly Gardening Thread ... there is no telling where it will go and that is part of the fun and interest. Jump in and join us!

---
TOPICS: Agriculture; Food; Gardening; Hobbies
KEYWORDS: garden; gardening; soil
---
Navigation: use the links below to view more comments.
first 1-20, 21-40, 41-60, 61-80 ... 121-128 next last
---
---
---
---
---
---
---
---
---
---
---
---
---
---
---
---
---
---
---
---
---
Navigation: use the links below to view more comments.
first 1-20, 21-40, 41-60, 61-80 ... 121-128 next last
---
---