---
Weekly Gardening Thread Vol. 19 (Getting Projects Done) May 11, 2012
Friday, May 11, 2012 | JustaDumbBlonde


Posted on 05/11/2012 8:02:17 AM PDT by JustaDumbBlonde

Good morning FRiends and fellow gardeners!! Here's wishing all mothers and grandmothers a very joyous and beautiful Mother's Day. We rock!
It has been a very busy couple of weeks in my yard. Lots of projects going on and I was able to finish a few of them in between serious dumpings of rain. My rain gauge has registered just over 4" since Monday. We have a 50% chance of more by the first part of next week. Need to be harvesting wheat, but can't really be upset with the rain after the drought we experienced last year.
A look at the radar this morning shows blessed rain falling in Texas. I hope that everybody that needs some rain is receiving it.
The main project I've worked on for 2 weeks is placing flower beds around 4 of the 7 old oaks in my front yard, utilizing reclaimed railroad ties. Each bed contains 10 azaleas, with some assorted colorful plants added to offer something appealing until the azaleas grow and bloom next Spring.
I don't know what it is, but RR ties look HUGE when they are being loaded on your trailer, but when you dump them out next to a big oak, all of a sudden they look as small as a landscape timber. It took 2 men to move these things around. Step one: dump 8 of them by each tree.
Next, we layed-out the first bed in the basic configuration I had been pondering in my head, and figured out how we wanted to cut them. Note: the creosote in RR ties totally ruins the chain on a chainsaw. Be prepared to sharpen the teeth every 6-8 ties, and replace the whole chain when you're done.
After settling on the joints we would use, the ties were cut. Really happy with how the joints turned out. We have drilled 2 holes in each of the long sides and hammered a piece of rebar through the tie and about 18" into the ground. The secured ties hold the angled pieces in with the joint.
I purchased 30 yards of soil from a friend and he delivered it right to the front yard. He dug from an area where he fed his cows for a decade or more, and the soil is rich with decayed hay and composted poo. Very loamy and absolutely gorgeous. Everything I planted should do very well.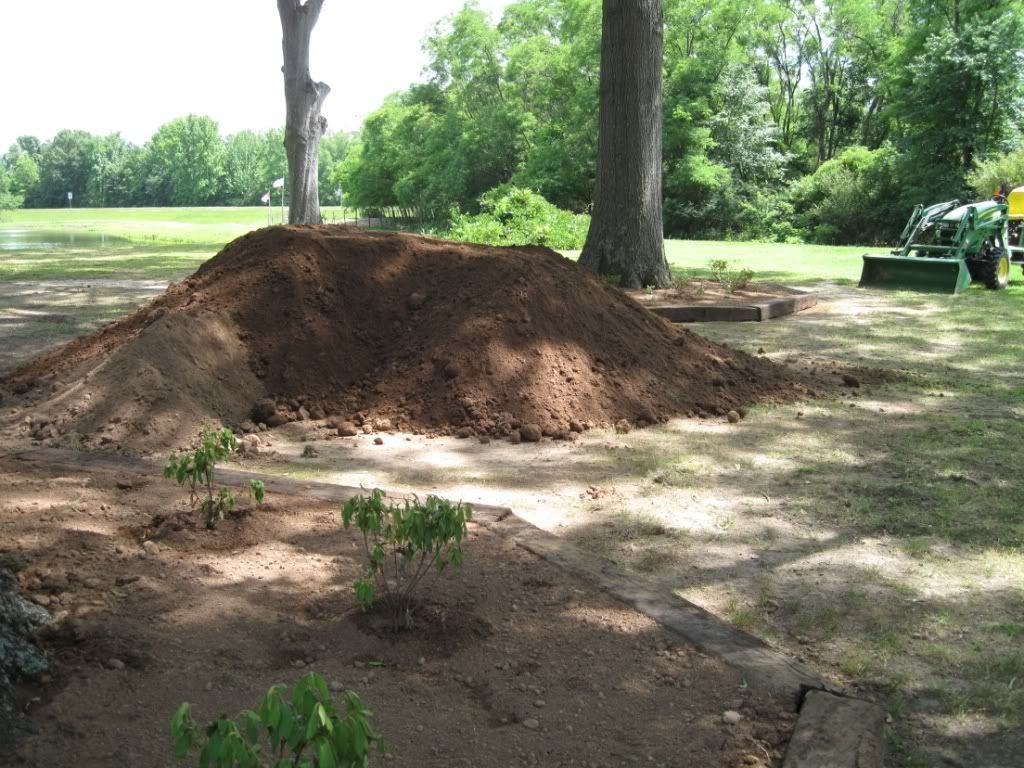 The four bundles of azaleas that I ordered from my very favorite nursery in Georgia. They had their patented (named) azaleas on clearance for $3 each, so I got 10 per tree. Each bundle is a different color. The colors were Lady Mildred which is purple, Peppermint which is a pink/white stripe, a red and a hot pink, neither of which names I can recall right now. The nursery takes them out of the pots and packs the roots with moisture-retaining gel. Then they ship them to me via UPS. They experienced some transplant shock when I put them in the beds, but the stems are still very much alive and green, so I have every confidence that they will recover nicely. If not, they are guaranteed and I'll get replacements when they resume shipping again in the Fall.
Bed #1 when we got finished with it:
Bed #2:
Bed #3:
Bed #4 doesn't have any accent flowers yet ... I ran out and haven't had a chance to buy any yet.
With some soil left over from the flower beds, I moved on to my raised garden bed where I grow my lettuces and other salad makings. When I originally built this 8' x 16' bed, I filled it with potting soil, which turned out to be a poor choice. I put 100 feet of soaker hose down before I added the new soil:
Added the soil and got it spread out nicely:
Then I covered the soil with commercial grade landscape fabric, utilizing an old framing square to tuck in 4" on all sides.
Got the bed finished just in time for a thunderstorm! The tucked edges, along with 5 landscape pins down the middle, kept the fabric nicely in place.
Some of my geese, very much enjoying playing in the rain:
Finally, I took this photo when I had one of my bee hives torn apart. This frame shows nurse bees tending everything from eggs (lower right corner area) to larvae ready to be capped until the baby bees form and emerge.
Looking forward to hearing about your week in the yard and garden! Please check in and let everyone know what you've been up to. Photos are always appreciated and enjoyed!
The Weekly Gardening Thread is a weekly gathering of folks that love soil, seeds and plants of all kinds. From complete newbies that are looking to start that first potted plant, to gardeners with some acreage, to Master Gardener level and beyond, we would love to hear from you.
This thread is non-political, although you will find that most here are conservative folks. No matter what, you won't be flamed and the only dumb question is the one that isn't asked.
It is impossible to hijack the Weekly Gardening Thread ... there is no telling where it will go and that is part of the fun and interest. Jump in and join us!

---
TOPICS: Agriculture; Food; Gardening; Hobbies
KEYWORDS: bees; garden; gardening; raisedbeds
---
Navigation: use the links below to view more comments.
first previous 1-20, 21-40, 41-60, 61-80, 81-98 next last
---
---
---
---
---
---
---
---
---
---
---
---
---
---
---
---
---
---
---
---
---
Navigation: use the links below to view more comments.
first previous 1-20, 21-40, 41-60, 61-80, 81-98 next last
---
---