---
(-:(-:(-:THE OFFICIAL FRIDAY SILLINESS THREAD:-):-):-)
Posted on 07/13/2012 5:55:33 AM PDT by Lucky9teen
Fool's Paradise Day
When : July 13th

This special day seems a bit like an oxymoron. How can a fool reach, or experience, Paradise? And, how could a place BE Paradise, if fools inhabit the place? We don't know the answers to these important questions. We can only speculate, as we have yet to find the creator of this special day. We will leave the philosophical thought about this day to you the reader.



In the meantime..................



Have a wonderful Fool's Paradise Day!
---
Or you can celebrate..................
---
Embrace Your Geekness Day
When : July 13th
Embrace Your Geekness Day is a great day to be a Geek. Or, to know a Geek.
A geek is an individual who is highly intelligent (brainy) and technically oriented. They are most often associated with the computer, and computer systems world. A geek is usually formal, studious and into his technical world, often to the exclusion of all else. A geek is closely related to a "Nerd". A nerd however, may or may not possess technical expertise.
Some people view the term "Geek" with a negative connotation. Are they jealous of your knowledge and skills, perhaps? We certainly think so.
Enjoy Embrace Your Geekness Day to the fullest. Spend plenty of time with your computer. Talk computer lingo and jargon. If you are a geek, stand tall and proud. Isn't it great to be so brilliant and gifted!?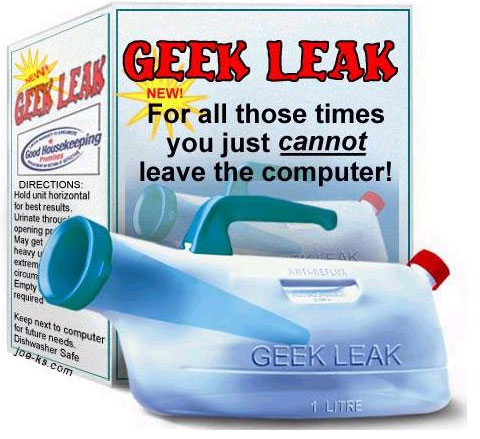 ---
TOPICS: Humor
KEYWORDS: foolsparadise; friday; geekness; ofst
---
Navigation: use the links below to view more comments.
first 1-20, 21-40, 41-60, 61-73 next last
---
---
---
---
---
---
---
---
---
---
---
---
---
---
---
---
---
---
---
---
---
Navigation: use the links below to view more comments.
first 1-20, 21-40, 41-60, 61-73 next last
---
---