---
Obama's "Vreenak Moment" - The Fraudulent Document (vanity)
Posted on 07/18/2012 7:57:25 AM PDT by GraceG
As an avid science fiction fan I am reminded today of an episode of Star Trek Deep Space Nine where the Federation has been getting the stuffing beat out of it by the Dominion so they decide to try to forge some documents to try to get their longtime enemy the Romulans into joining the war against the Dominion.
Captain Sisko gets the help of the spymaster Garak to forge a recording of a meeting and they pass it on to a Romulan Sentator named Vreenak. Well it doesn't take Vreenak to figure out that it is a fake.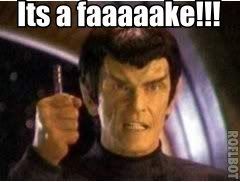 Commercial Break
Obviously pissed off Vreenak leaves in a huff and Sisko thinks that they have failed and now the Romulans may be pissed off enough with the Federation's farce to join up with the Dminion when someone reports that the good senator's shuttle has mysteriously exploded near the Romulan border (Garak's true goal) and that the Romulans found the fake document but since it was inthe middle of an explosion any flaws in it would be considered as "damage" due to the shuttle explosion and the more they ask questions the more the Dominion will deny it and eventually the Romulans join in against the Dominion.
Now what does this have to do with Obama?
Well Obama has obviously faked documents and just yesterday Sheriff Joe has "Vreenak-ed" Obama by declaring them a fake and a complete forgery. Thankfully Sheriff Joe doesn't have to take a shuttle back to Romulan space so he should be safe. However Obama's team has a lot of explaining to do.
We have entered the commercial break we just need to see where this is heading when the show resumes....

---
TOPICS: Conspiracy; History; Society
KEYWORDS: birther; fake; naturalborn; obama; sheriffjoe; startrek
---
---
---
---
---
---
---
---
---
---
---
---
---
---