---
(-:(-:(-:THE OFFICIAL FRIDAY SILLINESS THREAD:-):-):-)
Posted on 08/17/2012 5:40:07 AM PDT by Lucky9teen
Gaffetastic!



Where Am I...?
During an August 14th speech, Biden attempted to fire-up the audience when he told them: "We need you to go out there and make sure, ladies and gentlemen, that with you, and I mean this: With you, we can win North Carolina again. And if we do, we win the election if we win you."

Unfortunately for Biden, the speech was delivered in Danville... Virginia.



Who Is He...?
One upping himself, the following day the VEEP made another campaign stop at Virginia Tech University in Blacksburg, Va. The former member of Congress seems to have forgotten the elected office his soon-to-be debate opponent holds: "Congressman Ryan and the congressional Republicans, as one person said, had all, have already passed in the Republican House what Governor Ryan is promising to give the whole nation."

Paul Ryan is the representative from Wisconsin's 1st Congressional District. He's never served as the governor of any American state or territory.

What Century Is This...?
Possibly sensing he was on a roll, the constitutional spare tire attempted to aggrandize Obama's mega-multi-billion dollar bailout of General Motors: "Once again General Motors [is] the largest automaker in the world. Folks, where is it written that we cannot lead the world in the 20th century in making automobiles? I've not seen it written anywhere."



Yet again, unfortunately for Biden, this is the 21st century.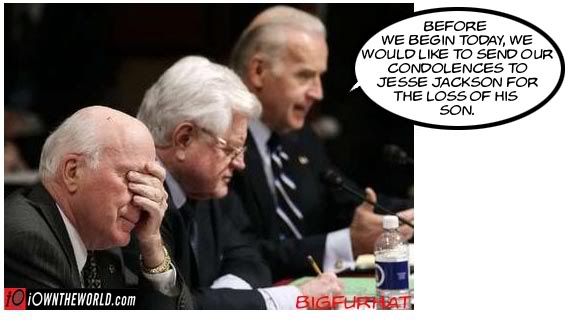 Get Excited, will ya?
About 200 Turkish-American and Azerbaijani-American Obama donors learned one April morning at a breakfast in Washington, DC. that, when attending a Joe Biden fundraising event, you can't just show up and write a check—you've got to get excited! In typical Biden fashion, the ever-jovial VP teased the crowd for being subdued. "I guess what I'm trying to say without boring you too long at breakfast--and you all look dull as hell, I might add," he said. "The dullest audience I have ever spoken to. Just sitting there, staring at me. Pretend you like me!"




Carry a Big Stick
Biden attempted to explain how President Obama's foreign policy is better than Mitt Romney's by referencing Theodore Roosevelt's classic quote, "Speak softly and carry a big stick; you will go far." Joe decided to hone in on, perhaps, the most important part of Roosevelt's words saying, "I promise you, the President has a big stick. I promise you." Biden's words instantly sent minds into the gutter, eliciting laughter from his audience and many a dirty joke on Twitter. New York magazine chose to interpret the VP's words literally and put forth a gallery displaying The Many Sticks of Barack Obama.




Offending the Irish
Biden has shown before that he loves a good double—or even triple—entendre. In March, he welcomed Ireland's prime minister to the White House by sharing "An old Irish saying" that his Grandfather Finnegan probably made up: "May the hinges of our friendship never go rusty." Biden insisted that when it comes to the friendship between the U.S. and Ireland, "there's no doubt about them staying oiled and lubricated here." When Joe's audience erupted in laughter, he added, "Now, for those of you who are not full Irish in this room, lubricated has a different meaning for us."

In another speech, amid several Irish proverbs and sayings, Biden referenced the prime minister's mother, saying: "God rest her soul." Then the VP had a realization: "Wait, your mom's still alive! It was your dad who passed. God bless her soul!" Biden corrected his mistake, the audience roared, yet it was unclear whether the PM found Biden's blunder amusing.




Joe's big f-bomb
"This is a big f---ing deal!" An open mic caught the vice president uttering these congratulatory words to Obama during the health care law signing ceremony on March 23, 2010.



Keep calm and panic!
"I wouldn't go anywhere in confined places now. … When one person sneezes it goes all the way through the aircraft. That's me. I would not be, at this point, if they had another way of transportation, suggesting they ride the subway." -- Biden, trying to allay public fears about swine flu, in a "Today" show interview, April 30, 2009

Get up, man!
Biden asked Sen. Chuck Graham to stand up to be recognized by the crowd at a rally on Sept. 9, 2008. Apparently, Biden somehow forgot that Graham uses a wheelchair. "Chuck, stand up, let the people see you," said Biden. "Oh, God love ya...What am I talking about?"

You know, the guy who said the oath.
"Jill and I had the great honor of standing on that stage, looking across at one of the great justices, Justice Stewart," Biden said in an apparent reference to Justice John Paul Stevens, who had just sworn him in as vice president, Jan. 20, 2009.


Math isn't his strong suit.
"If we do everything right, if we do it with absolute certainty, there's still a 30 percent chance we're going to get it wrong." – Biden warning members of the House Democratic caucus that they could face flak for the $900 billion economic stimulus bill, Feb. 6, 2009.

Where's a crisis when you need one?
"Remember, I said it standing here, if you don't remember anything else I said. Watch, we're going to have an international crisis, a generated crisis, to test the mettle of this guy." —Biden, telling donors at a private fundraiser in Seattle that Barack Obama would likely be tested by an international crisis during his first few months as president, Oct. 20, 2008.

Maybe you should have gone with Hillary
"Hillary Clinton is as qualified or more qualified than I am to be vice president of the United States of America. Let's get that straight. She's a truly close personal friend. She is qualified to be president of the United States of America. She's easily qualified to be vice president of the United States of America. Quite frankly, it might have been a better pick than me. But she's first rate." – Biden praising Obama'a former rival for the Democratic presidential nomination, Sept. 10, 2008.

Generous - to a fault.
"I mean, you got the first mainstream African-American who is articulate and bright and clean and a nice-looking guy. I mean, that's a storybook, man." — Biden, being complimentary about fellow Democratic presidential candidate Barack Obama on Jan. 31, 2007.


Equal opportunity offender
"In Delaware, the largest growth of population is Indian-Americans, moving from India. You cannot go to a 7-Eleven or a Dunkin' Donuts unless you have a slight Indian accent. I'm not joking." -- Biden was talking the support he enjoyed among Indian-Americans in a private comment captured on C-SPAN in June 2006.

Stealing someone else's line
"I started thinking as I was coming over here, Why is it that Joe Biden is the first in his family ever to go to a university?" – Biden during his first presidential run, Aug. 23, 1987. He lifted passages of that speech from a speech by British Labour Party leader Neil Kinnock. The plagiarism revelations led Biden to bow out of the race.

Depressed about History
"When the stock market crashed, Franklin D. Roosevelt got on the television and didn't just talk about the, you know, the princes of greed,'' Biden told anchor Katie Couric on the CBS Evening News. "He said, 'Look, here's what happened.' ''

The only problem is that FDR was not the president when the stock market crashed. Herbert Hoover was. The second problem is that television was not widely available during the October 1929 market crash, and the dominant means of communication at the time was the radio.

---
TOPICS: Humor
KEYWORDS: biden; bidengaffes; gaffe; joebiden; obamajokes; ofst; silliness
---
Navigation: use the links below to view more comments.
first 1-20, 21-40, 41-60, 61-80, 81-83 next last
---
---
---
---
---
---
---
---
---
---
---
---
---
---
---
---
---
---
---
---
---
Navigation: use the links below to view more comments.
first 1-20, 21-40, 41-60, 61-80, 81-83 next last
---
---