---
I Want Everybody To Look At This Week's 'NEWSWEEK':
Posted on 10/02/2012 12:25:24 PM PDT by Vinylly
I was at the check-out counter at our local grocery store and I was shocked at what I saw on the cover of 'NEWSWEEK': It had a picture of Obama with a caption reading 'Obama, the Democrats Reagan'. What???, this is an outrage!!!! What an insult to America and the name of Ronald Reagan!!! These two people are 180 degrees apart. Ronald Reagan was pro-business, pro-freedom, pro-democracy, and pro-America. Obama is anti-business, pro-socialist, anti-America, with Government controling our lives. Newsweek in absolutely clueless. Their caption should have read: 'Obama, the d'RAT's Carter' If Newsweek was truthful and honest, their caption should have read; 'Romney, the Republican's Reagan'.

---
TOPICS: Chit/Chat
KEYWORDS: democratreagan; democrats; dreamon; mediabias; obama; reagan
---
Navigation: use the links below to view more comments.
first previous 1-20, 21-24 last
---
To: Vinylly; All
Newsweak is a filthy rag that genuflects at the altar of Obama, god of Marxism.
---
To: F15Eagle
---
To: Vinylly
Compare and Contrast...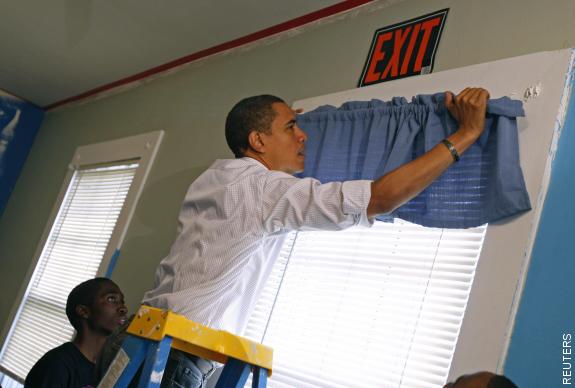 ---
To: Vinylly
As I was driving home from work today with the news on the radio, I heard Michelle Obama at a rally say, "It's gonna take a lot more than four years to get us out of this mess" or something to that effect. I immediately thought about Ronald Reagan and how preposterous it would be to imagine Nancy Reagan making such a statement in 1984. Reagan inherited a real mess — sky high unemployment, rampant inflation and a military in decline at the height of the cold war. Reagan shook things up and turned things around in his first term. He was a class act. He was the opposite of Obama in almost every respect. I will not read this article but as a dyed in the wool Reaganite, I find the premise insulting to Ronald Reagan and to his admirers who are by and large patriots of the highest order and who bear no resemblance to the miscreants who worship Obama.
---
Navigation: use the links below to view more comments.
first previous 1-20, 21-24 last
---
---
FreeRepublic.com is powered by software copyright 2000-2008 John Robinson