---
Biden Proves The Bible Correct
Posted on 10/12/2012 6:10:17 PM PDT by mountn man
If a wise man contendeth with a foolish man, whether he rage or laugh, there is no rest.
Proverbs 29:9(KJV)

---
TOPICS: Chit/Chat; Humor; Religion
KEYWORDS: vanity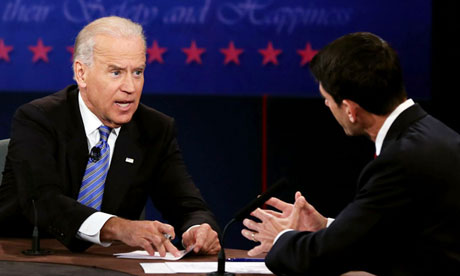 ---
To: mountn man
Biden Proves The Bible Correct

...and people say he's out of touch with religion!

2
posted on
10/12/2012 6:13:10 PM PDT
by
verum ago
(Some people must truly be in love, for only love can be so blind.)
---
To: mountn man
Ryan had biden on the ropes when ryan started turnign hte table by itnerruipting biden- biden began to lose it- gettign more andm ore visably angry when ryan wouldn't let him talk- I was hoping ryan was going to pick up on this and use it to his advantage, but he apparently chickened out and became polite again- thinking I guess that he'd just let biden keep looking rude- but I cvontend he coudl have made biden lose it if he had just kept interrupting- Liberals are masters at being jerks, but when it's thrown back at them, they get really flustered and can't handle it an d fall all to pieces.
3
posted on
10/12/2012 6:18:54 PM PDT
by
CottShop
(Scientific belief does not constitute scientific evidence, nor does it convey scientific knowledge)
---
To: mountn man
How long, ye simple ones, will ye love simplicity? and the scorners delight in their scorning, and fools hate knowledge? Proverbs 1:22
The wise shall inherit glory: but shame shall be the promotion of fools. Proverbs 3:35
The wise in heart will receive commandments: but a prating fool shall fall. Proverbs 10:8
He that hideth hatred with lying lips, and he that uttereth a slander, is a fool. Proverbs 10:18
It is as sport to a fool to do mischief: but a man of understanding hath wisdom. Proverbs 10:23
A fool's wrath is presently known: but a prudent man covereth shame. Proverbs 12:16
A prudent man concealeth knowledge: but the heart of fools proclaimeth foolishness. Proverbs 12:23

4
posted on
10/12/2012 6:20:31 PM PDT
by
mountn man
(Happiness is not a destination, its a way of life.)
---
To: mountn man
I think Biden wanted Ryan to know that he was being beaten by the jawbone of an ass...
---
To: mountn man
A wise man feareth, and departeth from evil: but the fool rageth, and is confident. Proverbs 14:16
He that is soon angry dealeth foolishly: and a man of wicked devices is hated. Proverbs 14:17
The tongue of the wise useth knowledge aright: but the mouth of fools poureth out foolishness. Proverbs 15:2
The lips of the wise disperse knowledge: but the heart of the foolish doeth not so. Proverbs 15:7
The heart of him that hath understanding seeketh knowledge: but the mouth of fools feedeth on foolishness. Proverbs 15:14
A [self-confident] fool's lips bring contention, and his mouth invites a beating. Proverbs 18:6
It is an honour for a man to cease from strife: but every fool will be meddling. Proverbs 20:3

6
posted on
10/12/2012 6:35:36 PM PDT
by
mountn man
(Happiness is not a destination, its a way of life.)
---
FreeRepublic.com is powered by software copyright 2000-2008 John Robinson