---
The Magic of AMD's Lightning Bolt
Semiaccurate ^ | Sep 4, 2012 | Thomas Ryan


Posted on 11/28/2012 10:24:57 AM PST by Ernest_at_the_Beach
A little bit of thunder and a whole lot of flash....
Last year Intel introduced the first products based off of its proprietary Thunderbolt interface. Since then Thunderbolt has made its way into the high-end motherboard market and into laptops from a number of major OEMs. Of course these have all been laptops and motherboards based on Intel platforms, and AMD has been essentially unable to respond. But even without any direct competition, Intel has been having quite a bit of trouble convincing consumers to adopt Thunderbolt. One of the biggest barriers to the wide spread adoption of Thunderbolt has been its relative cost compared to USB 3.0 and other standardized technologies. Thus Intel has yet again created an opening for a low cost competitor to spark some life into this otherwise dull market segment, and AMD is working to be that competitor.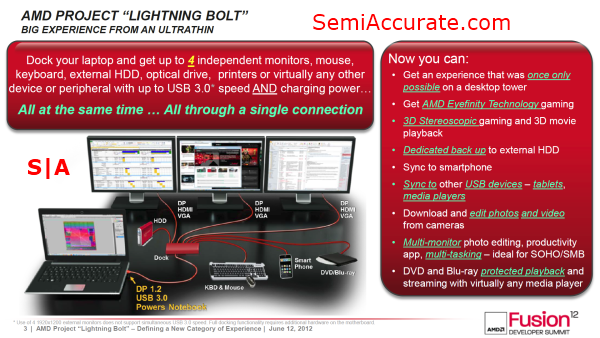 To this end AMD has Lightning Bolt. Now Lightning Bolt doesn't attack the same high-bandwidth market that Thunderbolt is aimed at, (that's what external PCI-E is for) but it does attack the more practical side of Thunderbolt by taking the multi-device and electric charging capabilities that Thunderbolt offers and expanding upon them. Lightning Bolt allows for a single DisplayPort 1.2 connector, using a special Lightning Bolt capable cable, to connect to a dock. The dock is able to power up to three additional display outputs, as many USB ports as you want, a gigabit Ethernet port, audio ports, and will even charge your laptop.

(Excerpt) Read more at semiaccurate.com ...
---
TOPICS: Business/Economy; Computers/Internet
KEYWORDS: hitech
---
---
---
---
---
---
---
---
---
---
---
---
---
---
---
---
---
---
---
---
---