---
More of Saturn's Strange Hexagon – In Living Color!
Universe Today ^ | November 29, 2012 | John Major


Posted on 11/29/2012 5:09:11 PM PST by lbryce

Yesterday's post on new Cassini'S close-ups of Saturn's mysterious North Pole Hexagon were absolutely breathtaking in the view of the astounding spectacle that nature is capable of. Most of the images involving spectacles such as the Hexagon will usually be skewed to a certain color to dramatize the images to a heightened state of existence. But the images shown here today, on their merit, equally as dramatic but with a truer representation off their color persona that naturally tends to be more staid, neutral, certainly less dramatic as provided by the most recent batch of images provided below.

Free Republic:November 28, 2012:Incredible Raw Image of Saturn's Swirling North Pole (Saturn's Enigmatic Swirling Hexagon)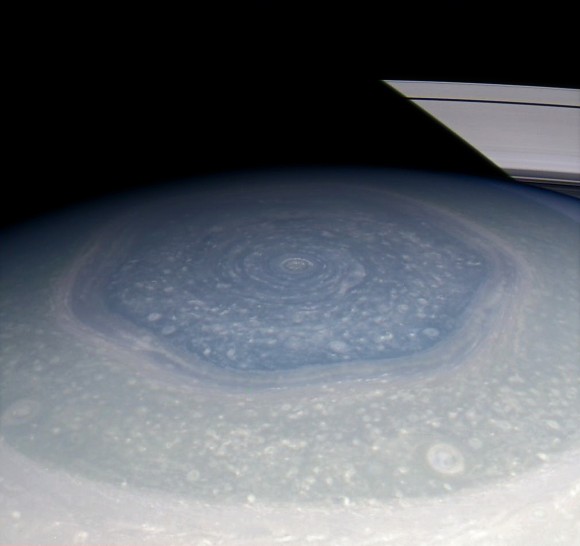 Color-composite Cassini image of Saturn's northern hexagon (NASA/JPL/SSI/Jason Major)
Cassini sure has been busy these past few days! After returning some mind-blowing images of the swirling 3,000-km-wide cyclone over Saturn's north pole the spacecraft pulled back to give a wider view of the ringed giant's upper latitudes, revealing one of its most curious features: the northern hexagon.
The image above is a color-composite made from raw images acquired by Cassini on November 28 from a distance of 379,268 miles (610,373 kilometers) away. Because the color channels were of a much lower resolution than the clear-filter monochrome image, the color is approximate in relation to individual atmospheric details. Still, it gives an idea of the incredible variation in hues around Saturn's northern hemisphere as well as clearly showing the uncannily geometric structure of the hexagon.
(Can I get another "WOW"?)
Made of a band of upper-atmospheric winds, for some reason at this latitude the stream forms a six-sided hexagonal shape. The entire structure is about 25,000 km across — large enough for four Earths to fit inside! The polar cyclone can be seen at the very center.
First seen by Voyagers 1 and 2 over 30 years ago the hexagon appears to be fixed with Saturn's rotation rate, which is a remarkably speedy 0.44 Earth-days (about 10.5 hours.)
"This is a very strange feature, lying in a precise geometric fashion with six nearly equally straight sides," said atmospheric expert and Cassini team member Kevin Baines back in 2007. "We've never seen anything like this on any other planet. Indeed, Saturn's thick atmosphere where circularly-shaped waves and convective cells dominate is perhaps the last place you'd expect to see such a six-sided geometric figure, yet there it is."
As scientists puzzled over the mechanisms behind the geometric feature, they came to the conclusion that not only is it a very natural occurrence, it's also something that is not uncommon in fluid dynamics… apparently its sides are bound by the eddying storms. (Read more in this article by Nicole Gugliucci.)
Here are some more raw images from Cassini's Nov. 28 pass: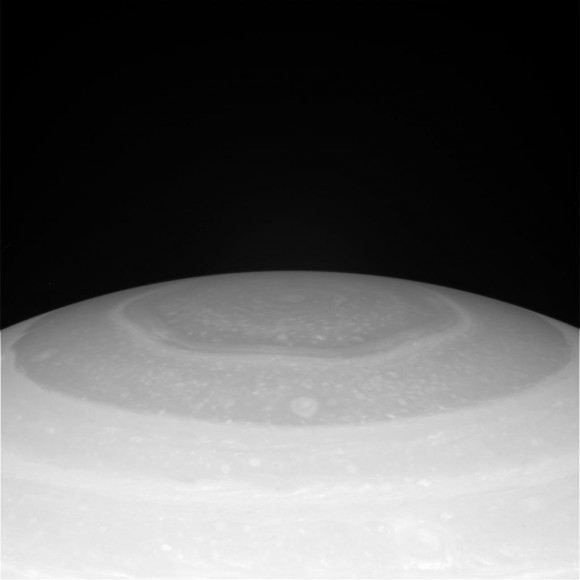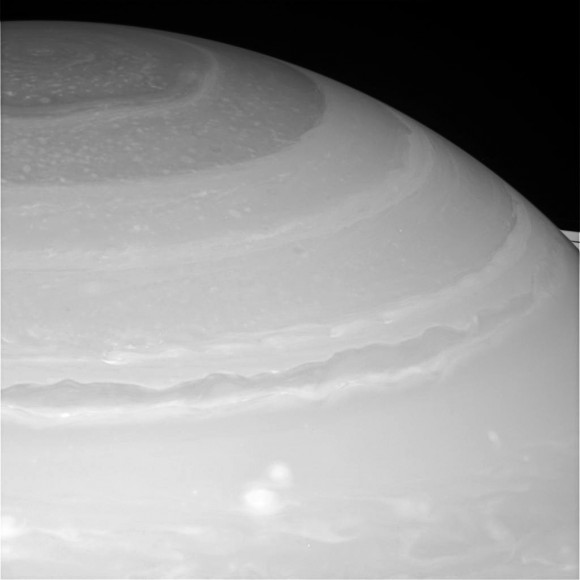 Amazing! Here we are well over 8 years after arriving at Saturn and Cassini is still astounding us almost daily with views of the ringed world. (I knew it was my favorite planet for a reason!)
As always, stay tuned to Universe Today for more!

---
TOPICS: Chit/Chat; Miscellaneous; Science
KEYWORDS: cassini; hexagon; huygens; saturn; saturnhexagon; science; titan
---
Navigation: use the links below to view more comments.
first previous 1-20, 21-31 last
---
---
---
---
---
---
---
---
---
---
---
---
Navigation: use the links below to view more comments.
first previous 1-20, 21-31 last
---
---