---
To: 2ndDivisionVet
Well, sounds like the fuel pump on her car.. maybe a lot of other things.. and, as for the ignition that won't turn, I had that happen to an old chevy PU I owned. I stuck a big screw driver in the key hole and latched a pair of vise grips on it.. and I turned it. It worked after that.. didn't need a key, but no one knew that...
---
To: tje
You sound like you went to the same school I did. Here's how I dealt with making power windows in mah Chevy.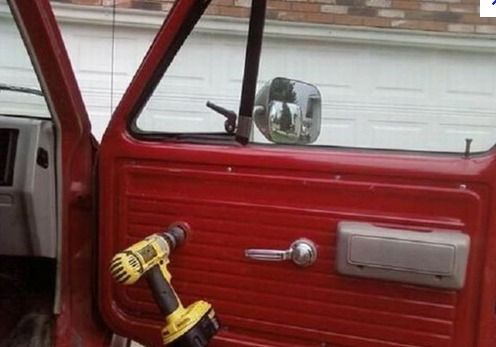 15
posted on
12/06/2012 5:53:59 PM PST
by
Attention Surplus Disorder
(This stuff we're going through now, this is nothing compared to the middle ages.)
---
To: tje
Agree the fuel pump might be the problem, but best to check fuel filter first. Always look at cheapest, simplest causes...
I had the check engine light come on in my Sentra, took it to the dealer, he put it on the computer and it said EGR valve.
So drove it home and started working on removing egr, and while getting ready, noticed that a rubber hose that did about a 90 degree turn going to the EGR had a monster crack in it.
Replace the four inches of hose, light went out, never came back on. Worked like a champ.
About a 75 cent fix. Beats the hell out of taking to a mechanic who would charge me 300 bucks for a new egr valve!
18
posted on
12/06/2012 5:56:57 PM PST
by
djf
(Conservative values help the poor. Liberal values help them STAY poor!!!)
---
FreeRepublic.com is powered by software copyright 2000-2008 John Robinson