---
Free Republic University, Department of History presents
World War II Plus 70 Years: Seminar and Discussion Forum
First session: September 1, 2009. Last date to add: September 2, 2015.
Reading assignment:
New York Times
articles delivered daily to students on the 70th anniversary of original publication date. (Previously posted articles can be found by searching on keyword "realtime" Or view
Homer's posting history
.)
To add this class to or drop it from your schedule notify Admissions and Records (Attn: Homer_J_Simpson) by freepmail. Those on the Realtime +/- 70 Years ping list are automatically enrolled. Course description, prerequisites and tuition information is available at the bottom of Homer's profile. Also visit our
general discussion thread.
---
To: Homer_J_Simpson
2
posted on
12/13/2012 4:19:20 AM PST
by
Homer_J_Simpson
("Every nation has the government that it deserves." - Joseph de Maistre (1753-1821))
---
To: Homer_J_Simpson
---
December 13, 1942
:
"German Propaganda Minister Joseph Goebbels complains in his diary about Italy's halfhearted persecution of Jews."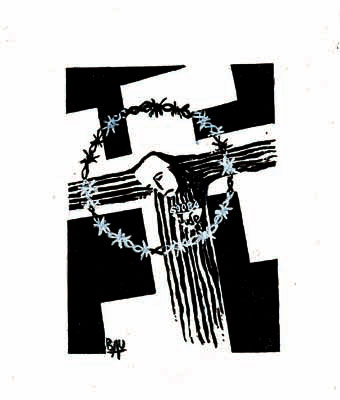 " 'A Crucified Jew on a Swastika,' an ink drawing by Holocaust survivor Joseph Bau, is an unequivocal symbol of the Nazis' merciless solution to the "Jewish Question.' "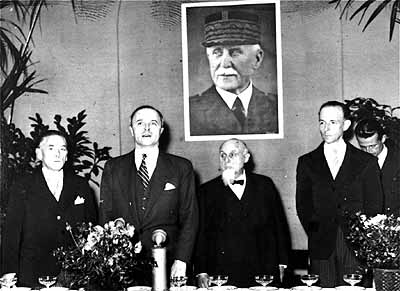 "In some occupied countries, Nazi racial policy found a warm welcome among scientists pursuing dubious research in eugenics.
Here, just to the left of a large portrait of Vichy France leader Philippe Pétain, Louis Darquier de Pellepoix, head of the Commissariat général aux questions juives (Office for Jewish Affairs), delivers the inaugural address at the opening of the Institute for Anthroposociology.
The Institute was dedicated to the study of eugenics and race.
To Pellepoix's left stands racial scientist Count Georges Vacher de Lapouge, who, at the beginning of the century, had urged scientists to engage in breeding to improve the human race."
---
---
FreeRepublic.com is powered by software copyright 2000-2008 John Robinson