---
December 25, 1942
:
December 24, 1942: "French Admiral Francois Jean Darlan, a Vichy government political power and collaborator, is shot and fatally wounded by 20-year-old French royalist Fernand Bonnier de la Chapelle; See December 26, 1942.
December 25, 1942: "Four prisoners who escape from the Sobibór extermination camp are shot dead after they are betrayed by local villagers.
"Germans mount a second hunt in Poland's Parczew Forest for fugitive Jews."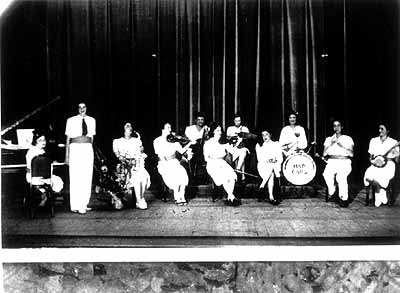 "This women's band performed at the Vittel detention camp in France.
Relatively good conditions prevailed there as long as the Gestapo sought to trade foreign nationals and Jews with valid foreign passports for German nationals held by the Allies.
In spring 1944, however, Jews with valid papers from occupied and belligerent nations were shipped to the Drancy, France, transit camp. European Jews holding transit documents from Latin American countries (most of which were neutral) were sent to Auschwitz, in part because the countries that had issued the papers repudiated them."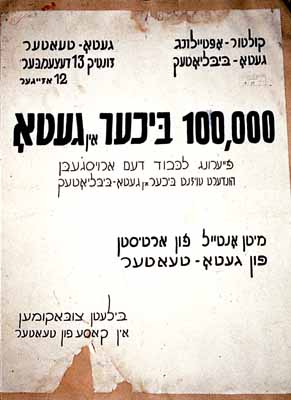 "Among the Vilna (Lithuania) Ghetto's most extraordinary accomplishments was its library.
This poster from December 1942 celebrates the library's lending of its 100,000th book.
Organized by the library's director, Hermann Kruk, the occasion celebrated the community's love of literature and commitment to learning even during these cruel times.
Reading provided both entertainment and escape from the harshness of daily life in the ghetto."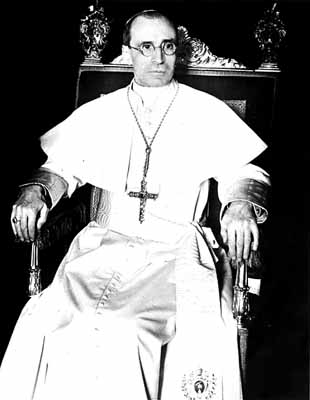 "Events in 1942 illustrate why the Holocaust provokes controversy about the Vatican and the Roman Catholic Church.
The church's European network--bishops, diplomats, couriers, priests, and their parishioners--kept the Vatican and Pope Pius XII (pictured) informed about the fate of Europe's Jews.
Nevertheless, responding to reports about deportations and mass killings that occured in 1941 and 1942, Vatican Secretary of State Cardinal Luigi Maglione regarded the news as unverified if not exaggerated.
"Anxious for papal condemnation of Nazi Germany's treatment of the Jews, the Allies urged Pius XII to support a December 17, 1942, declaration entitled "German Policy of Extermination of the Jewish Race."
The Vatican had protested atrocities in general, Cardinal Maglione replied.
He went on to explain, however, that the Pope could not publicly condemn particular atrocities.
"On December 24 Pius XII, in a veiled reference to Jews, lamented the "hundreds of thousands who through no fault of their own, and sometimes only because of their nation or race, have been consigned to death or slow decline."
"Disputes about what the Vatican could or should have done during the Holocaust will be clarified but not resolved when its wartime archives are fully opened."
---