---
Free Republic University, Department of History presents
World War II Plus 70 Years: Seminar and Discussion Forum
First session: September 1, 2009. Last date to add: September 2, 2015.
Reading assignment:
New York Times
articles delivered daily to students on the 70th anniversary of original publication date. (Previously posted articles can be found by searching on keyword "realtime" Or view
Homer's posting history
.)
To add this class to or drop it from your schedule notify Admissions and Records (Attn: Homer_J_Simpson) by freepmail. Those on the Realtime +/- 70 Years ping list are automatically enrolled. Course description, prerequisites and tuition information is available at the bottom of Homer's profile. Also visit our
general discussion thread.
---
To: Homer_J_Simpson
Selections from West Point Atlas for the Second World War
North Africa, 1941: Pursuit to Tunisia, November 1942-February 1943
Tunisia 1942: Axis Initiative-Situation 14 February 1943, and Operations Since 1 January
Southwest Russia, 1942: Soviet Winter Offensive, Operations, 13 December 1942-18 February 1943
The Far East and the Pacific, 1941: Status of Forces and Allied Theater Boundaries, 2 July 1942
India-Burma, 1942: Allied Lines of Communication, 1942-1943
2
posted on
01/02/2013 5:13:51 AM PST
by
Homer_J_Simpson
("Every nation has the government that it deserves." - Joseph de Maistre (1753-1821))
---
To: Homer_J_Simpson
I've been getting a sense that the Germans fight better in the summer than winter. I wonder what this coming summer will bring?
---
To: Homer_J_Simpson
---
January 1, 1943
:
In 1943: "Heinrich Himmler is named Reich minister of the interior.
"Pope Pius XII announces that the Vatican can help oppressed peoples only via 'our prayers.'
"A collaborationist party, Nye Denmark (New Denmark), is established.
"SS Galizien (SS Galicia), a collaborationist Ukrainian volunteer SS unit, is established.
"Jozef Tiso, prime minister of Slovakia and an ally to Adolf Hitler, briefly halts deportations of Slovakian Jews.
"In France, French Jew Sabina Zlatin founds a children's home in Izieu, which shields some 100 Jewish children from the Nazis; See April 6, 1944.
"The first issue of the antisemitic Archiv für Judenfragen(Archive for Jewish Questions) is published in Germany.
In January 1943: "As the year begins, 10,000 Jews are performing forced labor in factories throughout Germany.
"The last 27 Jews in Bilgoraj, Poland, are flushed from hiding and killed.
"Nearly 870 children, invalids, and medical personnel are sent from Holland to Auschwitz.
"A Soviet military victory on the River Don engulfs 50,000 Hungarian Jews utilized as forced labor on the Eastern Front; more than 40,000 are killed in combat between German and Soviet forces.
Many thousands more are captured and mistreated by both the Soviets and Axis POWs.
"An SS instruction sheet for implementation of death sentences at extermination camps decrees that executions by hanging are to be carried out by designated prisoners; payment will be three cigarettes.
"Jewish Resistance members in the Warsaw Ghetto begin to split into 22 groups.
They construct shelters and bunkers and even create tunnels that lead to the gentile portion of the city.
"Moshe Fish and Leva Gilchik, Jews who formed a partisan group in forests outside Kleck, Poland, in July 1942, die in battle against German troops.
"A Putsch planned by some German generals at Stalingrad, Russia, and intended to overthrow Hitler never comes off.
Leading German opponents of Hitler and the Nazis--mostly conservative political opponents--conspire to overthrow Hitler's Reich.
They feel that Hitler has overreached himself, and that the war has developed into a dangerous two-front endeavor.
Despite their opposition to Hitler, his major German antagonists are antisemitic and still want the Jews to disappear.
They conclude that the Jews are a 'calamitous influence...on the nation,' and that the Jews are 'a danger to the German nation.'
"Germans murder 61,000 Jews at Auschwitz, Treblinka, and Belzec during this month alone.
"The United States State Department, which knows much about the Holocaust, continues to block attempts to transfer Jewish children to America.
January 1, 1943: "Jews in the Netherlands are no longer allowed to have bank accounts.
All Jewish money is put instead into a central account."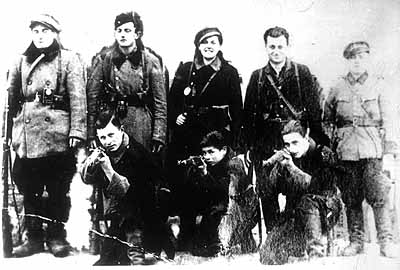 "Members of the Greenspan partisan group assemble in Poland's Parczew Forest."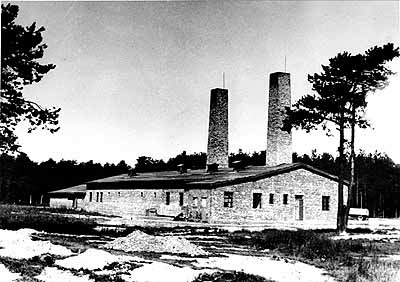 "Crematorium IV at Auschwitz-Birkenau could burn almost 1500 bodies a day."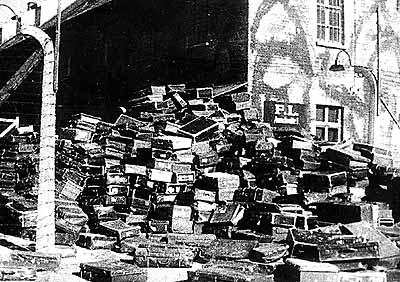 "Duped into believing that they were headed for "resettlement" in the East, Jews bound for Auschwitz carried suitcases containing their most precious belongings.
While the prisoners were often sent to their deaths upon arrival, their possessions were guarded, sorted, and stored before being shipped to Germany."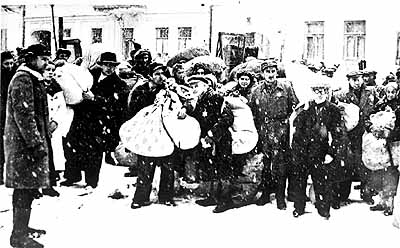 "These Jews are being moved to the Grodno Ghetto in Belorussia.
The ghetto was established shortly after the German invasion of Russia.
In November 1941 25,000 Jews from Grodno and the surrounding area were forced into the ghetto.
It was liquidated in January 1943, when the resident Jews were deported to their deaths at Treblinka.
Even before the German occupation of this section of the Soviet Union, civilian antisemites had attacked Jews there."
---
---
To: Homer_J_Simpson
The last Japanese resisters at the Buna Mission are overrun.
12
posted on
01/02/2013 11:06:10 AM PST
by
CougarGA7
("War is an outcome based activity" - Dr. Robert Citino)
---
FreeRepublic.com is powered by software copyright 2000-2008 John Robinson