---
Plot To Use Cats & Birds as Bombers Revealed ... in 16th Century German Weapons Manuscript
Daily Mail ^ | 25 January 2013 | Daily Mail Reporter


Posted on 01/25/2013 9:50:14 PM PST by DogByte6RER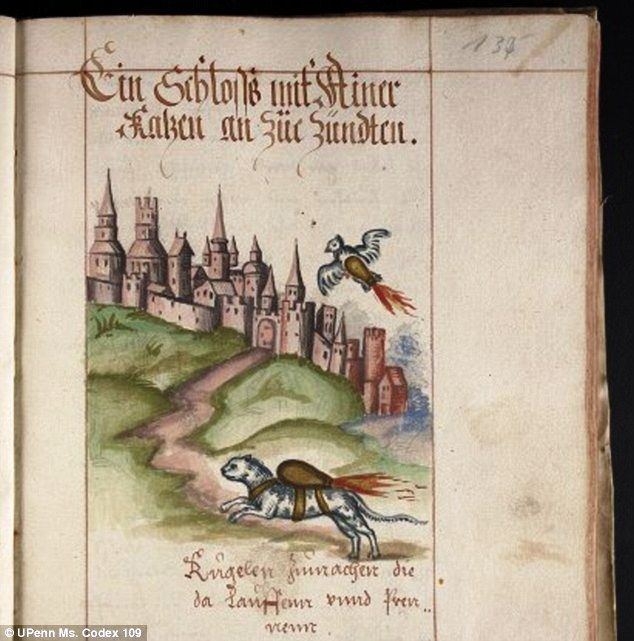 Atomic Kittens - German 400-Year-Old Weapons Manuscript Which Reveals Medieval Plans to Strap Bombs to Cats
Dossier, called Fire Book, has drawing of animals strapped with explosives
It also includes barrel bombs, grenades and anti-personnel ground spikes
Document has been released in digital form by University of Pennsylvania
Modern militaries have all manner of weapons at their disposal from nuclear submarines to heat-seeking missiles.
But 400 years ago technology was rather more limited and armies had to make the very best of their resources - in whatever shape or form they may take.
One such quest to steal a march on the enemy led to the publication of a whacky manuscript from 16th Century Germany which even considered using cats and birds to bomb opposing forces.
Called Feuer Buech, which translates from old German as Fire Book, the 235-page treatise from 1584 contains a drawing of a feline and his feathered friend with 'rocket packs' strapped to backs as they ran and fly past a castle.
It's not clear whether they were actually used, but animals have for centuries been deployed in warfare, often to deliver messages or for transportation, but sometimes as weapons.
At the beginning of the Southern Song Dynasty, which ruled China between 960 and 1279, monkeys were thought to have been employed in a battle between rebels of the Yanzhou province and the Chinese Imperial Army.
They were clothed with straw, dipped in oil and set alight before being set loose into the enemy's camp.

(Excerpt) Read more at dailymail.co.uk ...
---
TOPICS: Books/Literature; Chit/Chat; Conspiracy; History; Military/Veterans; Miscellaneous; Pets/Animals; Weird Stuff
KEYWORDS: 16thcentury; cats; felines; germany; godsgravesglyphs; kittyping; medievelwarfare; warfare; workingdogs
---
---
---
---
---
---
---
---
---
---
---
---
---
---
---