---
Free Republic University, Department of History presents
World War II Plus 70 Years: Seminar and Discussion Forum
First session: September 1, 2009. Last date to add: September 2, 2015.
Reading assignment:
New York Times
articles delivered daily to students on the 70th anniversary of original publication date. (Previously posted articles can be found by searching on keyword "realtime" Or view
Homer's posting history
.)
To add this class to or drop it from your schedule notify Admissions and Records (Attn: Homer_J_Simpson) by freepmail. Those on the Realtime +/- 70 Years ping list are automatically enrolled. Course description, prerequisites and tuition information is available at the bottom of Homer's profile. Also visit our
general discussion thread.
---
To: Homer_J_Simpson
Selections from West Point Atlas for the Second World War
North Africa, 1941: Pursuit to Tunisia, November 1942-February 1943
Tunisia 1942: Axis Initiative-Situation 14 February 1943, and Operations Since 1 January
Southwest Russia, 1942: Soviet Winter Offensive, Operations, 13 December 1942-18 February 1943
The Far East and the Pacific, 1941: Status of Forces and Allied Theater Boundaries, 2 July 1942
India-Burma, 1942: Allied Lines of Communication, 1942-1943
2
posted on
01/27/2013 6:01:42 AM PST
by
Homer_J_Simpson
("Every nation has the government that it deserves." - Joseph de Maistre (1753-1821))
---
To: Homer_J_Simpson
Good thing television wasn't mainstream then, or they might have made a TV series based on "Casablanca", with an episode featuring an actor playing Winston Churchill stopping at Rick's.
4
posted on
01/27/2013 6:03:41 AM PST
by
Dr. Sivana
("C'est la vie" say the old folks, it goes to show you never can tell. -- Chuck Berry)
---
To: Homer_J_Simpson
---
January 27, 1943
:
"The Eighth USAAF (United States Army Air Force) mounts the first all-American air raid on Germany, at Wilhelmshaven."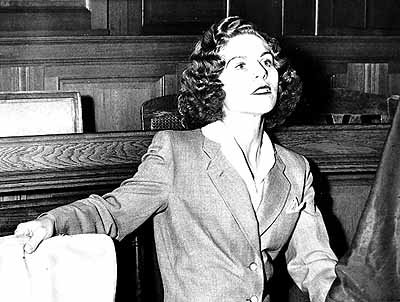 "Still alive today, Stella Goldschlag was a German Jew who had Aryan looks. In her youth, the shapely blue-eyed blonde was a compulsive liar and renegade who desperately hated her Jewishness.
Threatened, along with her parents, with deportation to the East and tortured by the Gestapo, Goldschlag was among a small number of Jews who collaborated with the Nazis and worked for the Gestapo.
She received money, good food, and a temporary reprieve from deportation for her parents.
"Using sex, her incredible memory, and her ruthlessness, Goldschlag's job was to root out the other so-called "U-boats"--Jews living underground in Berlin during the war--and to help the Gestapo arrest them.
Those Jews would be sent off to extermination camps.
On one weekend alone, Goldschlag helped the Gestapo catch 62 Jews.
She was indeed the "Blonde Poison," seducing Jews to their deaths."
---
---
FreeRepublic.com is powered by software copyright 2000-2008 John Robinson